Creation Personal Loan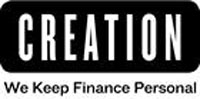 Representative 13.9% APR
Will lend between: £1,000 - £25,000
Over: 12 - 60 Months
Representative example: If you borrow £7,500 over 36 months at a Representative rate of 13.9% APR and an annual interest rate of 13.9% (fixed), you would pay 36 monthly installments of £253.01. The total charge for credit will be £1,608.36 and the total amount payable will be £9,108.36
Contact Creation Personal Loan
Are you eligible for Creation Personal Loan?
Check your eligibility before you apply.
Quick 40 second form.
No impact on your credit file.
Free personalised eligibility score.
Check Eligibility
Creation Personal Loan customer reviews.
2446 reviews
2.1 out of 5 stars
Our review of Creation Personal Loan
Creation aim to provide straightforward products and their personal loan fulfils this brief. Their website is easy to use, their application criteria are standard for the market and they offer a range of representative APRs depending on the amount applied for. As with like most other lenders just beware that the actual rate you're offered could differ from the representative APR that's shown on site. The reason being that the rate offered also takes into account your personal circumstances.
When applying for a loan with Creation you will need to be an existing eligible Creation customer.
TrustPilot paints a somewhat of a negative picture of Creation, with a score of only 1 out of 5. These are mainly for their retail finance rather than their loans, but there are some complaints of disorganisation (including losing documents and getting personal details wrong) and missed payment charges, which is quite common.
Overall verdict: Creation are a decent company with a straightforward product. If you have good credit then Creation are worth researching if not then look elsewhere.
Highlights
No set up fees
Instant decision made online
Detailed application
Jargon buster guide on website
Minimum criteria
You will need to be ages between 23 and 70
You must have a minimum gross income of £12,000pa
You need a bank or building society current account
You need to have good credit history
Need to have been a permanent UK resident for at least three years
Creation Loans are only available to existing eligible Creation customers.
Fees
Maximum APR 28.9%
Arrangement fee: £0
Early repayment fee: £0
Late payment fee: £0
About Creation Personal Loan
Creation Loans are only available to existing eligible Creation customers.
Creation personal loans are between £1,000 and £25,000 which can be paid in fixed monthly increments over one to five years. They advertise a representative APR of 9.9% for amounts between £7,500 and £10,000 and this will change for higher amounts but there are no hidden or arrangement fees to pay.
Company information
Registration number: 01091883
Chadwick House, Blenheim Court, Solihull, West Midlands B91 2AA
FCA registration
Reference No: 311518
Trading names: Creation Personal Loans
Place of business: Chadwick House Blenheim Court Solihull West Midlands B91 2AA
Data protection registration
Registration No: Z7177090
Data controller: Creation Financial Services Limited
Address: Chadwick House Blenheim Court Solihull West Midlands B91 2AA
Apply Now