Creditplus Car Finance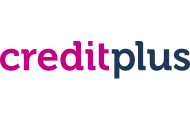 No reviews for Creditplus Car Finance
Representative 18.9% APR
Will lend between: £3,000 - £50,000
Over: 24 - 60 Months
Representative example: If you borrow £7,500 over 48 months with a representative APR of 18.9%, an annual interest rate of 18.9% (Fixed) you would pay 48 monthly repayments of £223.86. The total charge for credit will be £3,245.06 and a total amount payable will be £10,745.06.
If you work at Creditplus Car Finance
Contact Creditplus Car Finance
Are you eligible for Creditplus Car Finance?
Check your eligibility before you apply.
Quick 40 second form.
No impact on your credit file.
Free personalised eligibility score.
Check Eligibility
No reviews for Creditplus
Our review of Creditplus Car Finance
Poole-based Creditplus offer a really great service for those looking for the perfect car finance solution. The vehicle finance comparison service is easy to use, looking at both used and new cars of multiple different makes and models.
The representative APR of 25.32% is pretty competitive compared to other personal loans that can be used to finance a vehicle purchase, but much cheaper APRs are available for those with a good credit score.
With a rating of 'Excellent' on TrustPilot, Creditplus have been continuously praised for their commitment to customer service. They also make an effort to reply to any comments left on their TrustPilot page. Many customers have mentioned names of the advisors they have worked with closely to find the best deal, a huge benefit Creditplus offer in comparison to their competitors.
As with any high-cost short-term product the usual warning applies. If you have any doubt whether you can afford to repay your loan on time and in full, then don't apply. By missing or being late with repayments, you will not only harm your credit file but could be subject to many fees, which can soon make things very expensive.
Overall verdict: Creditplus are a really great option for anyone looking to fund a new vehicle. Their website is easy to use and information is easily accessible with a support line available for both mobile and landline phones. For those with good credit, the deals available are of really good value.
Highlights
Part exchange for some cars are accepted
Suitable for customers with poor credit
Have you car delivered to your doorstep
Minimum criteria
Must be over 18
Must have lived in the UK for over 3 years
Arrangement fee of £240
Fees
Maximum APR 18.9%
Arrangement fee: £240
Early repayment fee: £0
Late payment fee: £0
About Creditplus Car Finance
With Creditplus, you can either look for finance once you've found your desired vehicle, or you can find the perfect vehicle through Creditplus's extensive network of car dealers. As one of the top car finance providers in the country, Creditplus commit to ethical lending. Each customer is given a personal advisor that will support the customer throughout their car purchasing journey. Using their Car Finance Calculator and 30 second Q&A, they will advise you on the best option for your needs, finding the perfect car and having it delivered to your doorstep through their Find, Fund and Deliver service. Their no obligation quote for finance does not affect your credit score and can be completed in two minutes. A minimum loan is £4,000 and they have access to over 90 different lending options, including bad credit finance deals. Customers can also use the loan comparison service to find the best value deal.
Company information
Registration number: 04997789
52 Willis Way, Poole, England, BH15 3SY
FCA registration
Reference No: 456327
Trading names: Creditplus, Whichdeal Ltd
Place of business: 52 Willis Way, Poole, England, BH15 3SY
Data protection registration
Registration No: Z8890305
Data controller: WHICHDEAL LTD
Address: 52 Willis Way, Poole, England, BH15 3SY
Apply Now