Guarantor My Loan (Homeowners only)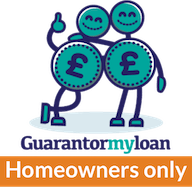 Representative 29% APR
Will lend between: £2,000 - £12,500
Over: 12 - 60 Months
Company Reg: 08667447
FCA: 718844
ICO: ZA055459
Address: Match the Cash Limited, Acre House, 11/15 William Road, London, NW1 3ER
About Guarantor My Loan (Homeowners only)
Guarantor My Loan are a UK based guarantor lender offering up to £10,000 over up to 5 years with a homeowner guarantor.
You don't have to have been a resident of the UK for a specified length of time and you don't need to have a good credit history in order to get accepted.
Guarantor My Loan (Homeowners only) customer reviews.
489 reviews
4.7 out of 5 stars
Know where you stand. Compare your options and Choose Wisely