Tesco | Purchases credit card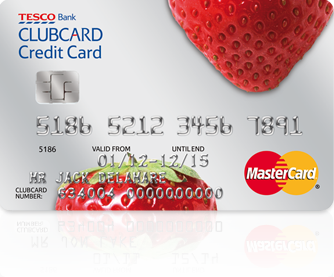 19.9% Representative
Intro purchase rate: 0% for 28 months
Purchase rate: 19.9%
Representative example:
Representative Example: The standard interest rate on purchases is 19.90% p.a. (variable), so when borrowing £1,200 the Representative APR will be 19.9% (variable).
Tesco | Purchases credit card customer reviews.
144 reviews
2.6 out of 5 stars
Nice and easy
23:29 17-12-2018

Smart Money People
Excellent service and easy to manage through the online App.
Stephen
Good for collecting clubcard points
14:22 13-06-2018

Smart Money People
I chose the card so that I can collect clubcard points. I use it to pay for my weekly shopping at Tesco, earn the extra points and then pay it off straight away. Could do with a bigger credit limit, but I have another card for that.
Ghostface
Benefits
20:37 10-04-2018

Smart Money People
great way of spending and accumulating rewards
Julie Wynne
Great credit card
13:30 10-02-2018

Smart Money People
I love that I collect club card points as I spend.
Raych Bonness
They cancelled my card with no warning - as an "industry wide prevention measure"
13:52 06-12-2017

Smart Money People
I actually can't believe this just happened. I have had a Tesco credit card for many years. Usually if they think there has been fraudulent activity, they ring you to confirm your transactions. Today I received a text stating my card had been cancelled due to an "industry wide fraud prevention measure". I phoned them to confirm, and they said that it was correct, and a large amount of people have been affected. The new card will come in 9 working days!!!! This is so inconvenient - I am going abroad next week - I was planning on using my credit card, as I don't like carrying large amounts of cash with me. I am so mad about this. They are not even giving a proper reason why so many people have been affected. Ive had credit cards for over twenty years, and never been in such a mess :(
Anonymous
Earn Rewards on the everyday
20:49 07-11-2017

Smart Money People
Do you need a credit card and want it to earn for your spends too? Then get a Tesco clubcard credit card. I always pay my bill in full each month so love to have a credit card that earns me a reward on my spends that is relevant to my everyday life. I can spend these rewards in store on food, or online or with other linked brands. It's a great reward that accumulates and is a lovely bonus at Christmas should you save them up but they can be used all year. Fair credit limits and online statements so paperless. No issues.
Francesca Frags Jones
Easy to use and Clubcard points too!
11:36 27-09-2017

Smart Money People
I signed up for this credit card because it was 0% interest for a long time. A credit card is a credit card usually - there's not much difference but at least if I had to be in debt, I was getting some Clubcard points to spend in Tesco. Additionally, the account was extremely easy to maintain online, which made a difference if I ever wanted to make extra payments or do any other account maintenance.
Clare Gorst
Check the small print
11:55 15-09-2017

Smart Money People
We have had a Tesco Credit Card for years. We tried to claim from them as we believed our purchases were covered for 90 days.... Apparently not the case, so check the small print and if this feature is important to you don't use Tesco.
Scally Wag
Every little helps!
21:50 01-09-2017

Smart Money People
The Clubcard Credit Card is a great way of spending money whilst accumulating additional clubcard points, either in Tesco or other stores. In no time you can convert your points into offers worth 3 or 4 times the value of the points.
Ken Diaz
Good rates and easy to manage
13:50 14-07-2017

Smart Money People
Love how easy it is to manage the account with the app. Easy and simple to make payments
Rose Warsop
Our review of Tesco | Purchases credit card
With a representative APR that's the same as a lot of others in the market, the Tesco Purchases Credit Card can hang its hat on the main benefit of 0% interest on purchases for up to 28 months. They state 'up to 28 months' on the website because depending on your previous credit history and the information you provide about your personal circumstances, this could be decreased to 22 or even 16 months – however, you'll find this out when the decision about the application has been made which only takes a minute or so.
If you're a frequent shopper and think that you might take advantage of the 0% on purchases while you can, then you might also enjoy the Purchases Credit Card for the Clubcard points that you can accrue. For every £4 spent in a Tesco store you can receive 1 point, and even if you shop elsewhere you can still earn them at a rate of 1 point per £8 spend. These points can then be exchanged for nights out, restaurant vouchers or money off your next grocery shop.
The Purchases Credit Card from Tesco comes with an average OPTIOSCORE on Choose Wisely, which is similar to the other credit cards that Tesco offer. Searching online for reviews that are specific to this card leads to disappointing results, but we can take a look at how their cards as a whole have been received by customers. Disappointingly, TrustPilot has awarded Tesco Credit Cards a rating of 'poor'. Some customers are unhappy with a tedious application process, cards being blocked and over-cautious fraud teams (although personally, I think it's better to be safe than sorry).
Overall verdict: For those that like to shop, the Tesco Purchases Credit Card could be a worthy contender. Customers can make the most of the 0% on purchases, within reason, and even earn Clubcard points on top. Be sure to keep up with your repayments, you don't want to build up debt and be stuck paying back the interest once the introductory period has come to an end.
Highlights
0% interest for purchases in the first 28 months
0% on balance transfers for the first three months
Earn Clubcard points as you spend
Decision within a minute
Links up with Apple Pay
Manage the card with the mobile app
Minimum criteria
You must be aged over 18
You need to be a UK resident
You must earn at least £5,000 per year
You must have good credit history
You don't already have more than 1 Tesco Bank credit card
You have not applied for a Tesco Bank credit card within the last month
Fees
Maximum APR %
Arrangement fee: £0
Early repayment fee: £0
Late payment fee: £0
About Tesco | Purchases credit card
The Tesco Purchases Credit Card has a representative APR of 19.9%, however customers are charged 0% interest on purchases up to 28 months. Your individual circumstances and credit history will not only determine the maximum credit limit you could be offered but also contributes towards the decision as to whether you would be granted a 0% interest period of 16, 22 or the full 28 months. Customers can also benefit from 0% interest on balance transfers for the first three months with a fee of 2.9% charged.
Applying for the Tesco Purchases Credit Card can take 10 minutes but the decision is made within one minute. Tesco allow customers to manage their cards either online by logging in to the website, or by using the mobile app if on the go. The actual Tesco Purchases Credit Card is contactless and can also be linked up to Apple Pay. When spending with the Purchases Credit Card you can also earn Clubcard points as you spend – it's 1 point for every £4 spend with Tesco and 1 point per £8 if spending elsewhere. These points can then be exchanged for vouchers or treats chosen by the customer.
Company information
Registration number: SC173199
Interpoint Building, 22 Haymarket Yards, Edinburgh EH12 5BH
FCA registration
Reference No: 186022
Trading names: Buy Now Pay Later, Tesco Bank, Tesco Buy Now Pay Later, Tesco Clubcard Credit Card, Tesco Personal Finance Plc
Place of business: Interpoint Building, 22 Haymarket Yards, Edinburgh, Midlothian EH12 5BH
Data protection registration
Registration No: Z4988111
Data controller: TESCO PERSONAL FINANCE PLC
Address: Interpoint Building, 22 Haymarket Yards, Edinburgh, Midlothian EH12 5BH
Apply Now