Tesco | 0% Balance Transfer Credit Card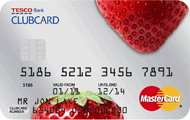 18.9% Representative
Purchase rate: 18.9%
Representative example:
Representative Example: The standard interest rate on purchases is 18.90% p.a. (variable), so when borrowing £1,200 the Representative APR will be 18.90% (variable).
Tesco | 0% Balance Transfer Credit Card customer reviews.
141 reviews
2.4 out of 5 stars
Easy to use
17:28 21-09-2018

Smart Money People
I've had a credit card with Tesco Bank for many years now. I find the ease of use and customer service to be excellent and the clubcard points are a bonus!
Maria Green
Still happy
06:20 14-04-2018

Smart Money People
We have had a Tesco MasterCard for years. They have provided flawless service especially when there have been fraudulent issues with cards. However the points system is not as good as it once was
Ailsa Sheldon
Thieves
07:09 09-04-2018

Smart Money People
Tesco just charged me £66 interest with a minimum payment of £66 on my £0 card balance. Their oh so unhelpful phone staff tell me for sure you have hidden things in your nasty 200 page terms and conditions allowing them to perform such highway robbery. Not a single member of my family will ever ever touch another tesco banded product.
Simon Bradley
Great credit card
13:30 10-02-2018

Smart Money People
I love that I collect club card points as I spend.
Raych Bonness
Great to build up extra clubcard points
09:29 08-02-2018

Smart Money People
I generally use my credit card for everyday spending and pay off in full each month to enjoy the clubcard points it generates. I very good bonus
Jolene
Awesome
13:29 03-02-2018

Smart Money People
Lovely friendly client customer service
Nandi Mgwadlamba
no loyalty
13:52 21-11-2017

Smart Money People
I have had a tesco credit card for 14 years. I have spent over £740,000 on that card. I was 6 days late paying and have been charges £70 interest and £12 late payment fee. They are venal, smug and immoral, and from now On I will never, ever transact with tesco again
tom ryves
Great Card Extra Points
20:30 08-11-2017

Smart Money People
I initially took out my CC to help my credit rating (buying a house), never had a problem with my card and they always have great offers to help save me money (0% transfers) and then I get bonus points too. Thank you - 12 years a customer
Georgina Clutten
Excellence
14:34 27-09-2017

Smart Money People
After coming across the offer for the card I ultimately received, I was amazed at how quick the process was to apply and whether I was accepted or not, the decision took only a couple of minutes. No waiting around and pondering. The rate given was great, customer service has been brilliant and I couldn't be happier. I get notifications when bills are ready and using the app is very quick and easy. A recommended company from myself.
Allan Kimuli
Every little helps!
21:50 01-09-2017

Smart Money People
The Clubcard Credit Card is a great way of spending money whilst accumulating additional clubcard points, either in Tesco or other stores. In no time you can convert your points into offers worth 3 or 4 times the value of the points.
Ken Diaz
Our review of Tesco | 0% Balance Transfer Credit Card
The Tesco 0% Balance Transfer Fee Credit Card has a representative APR that is the same as a number of credit cards on the market. Where Tesco differentiate themselves is with the 0% interest on balance transfers and money transfers for up to 36 months of opening the account. Customers can also earn Clubcard points when using their card, even if they aren't spending in Tesco, which can be exchanged for goods, trips and treats.
As the name suggests, cardholders of the Tesco 0% Balance Transfer Fee Credit Card also don't have to pay a fee on balance transfers for those completed in the first 90 days of opening the account. After this time a fee of 3% will be charged – this is a standard level among competitors. If you're thinking of doing a balance transfer then please be aware that you can only transfer a maximum of 95% of your given credit limit and you can't make transfers between Tesco Bank credit cards.
Looking at the web for online reviews shows there aren't any specific to the card but we can look at Tesco Bank's credit cards as a whole to judge the type of experience other customers have had. On TrustPilot, their cards have been judged as 'poor', citing long call wait times, application problems and cards getting blocked as the reasons.
Overall verdict: A standard representative APR, but if you shop at Tesco frequently and want to accrue Clubcard points then this could be an option, just watch out with balance transfers that you've paid your balance before the 36 months is over, otherwiseyou'll start incurring interest at inflated rates.
Highlights
0% interest on balance transfers for up to 30 months
0% fee on balance transfers for 90 days
0% interest on money transfers for the first 12 months
Manage your card with the Tesco mobile app
Collect Clubcard points when you spend
Links up with Apple Pay
Minimum criteria
You must be aged over 18
You need to be a UK resident
You must earn at least £5,000 per year
You must have good credit history
You don't already have more than 1 Tesco Bank credit card
You have not applied for a Tesco Bank credit card within the last month
Fees
Maximum APR %
Arrangement fee: £0
Early repayment fee: £0
Late payment fee: £0
About Tesco | 0% Balance Transfer Credit Card
With the Tesco 0% Balance Transfer Fee Credit Card customers can benefit from paying 0% on balance transfers for up to 30 months - if completed within the first 90 days. You may be offered a 0% transfer period of 36, 30 or 24 months depending on your personal circumstances. There is no fee for balance transfers, but money transfers carry a fee of 3.94% during the first 90 days and 3.0% after. The Tesco 0% Balance Transfer Fee Credit Card has a representative APR of 18.9% and the maximum credit limit is decided by Tesco during the application process when they take into account previous credit history and personal circumstances.
The application process takes around 10 minutes and you can be told within one minute whether you're accepted for the Tesco 0% Balance Transfer Fee Credit Card. The card can be managed either online or via their mobile app if you're on the move and it can be linked to Apple Pay as well. Customers are also able to earn Clubcard points when they spend – it's 1 point for every £4 spent with Tesco and 1 point per £8 if spending elsewhere. These points can then be exchanged for vouchers chosen by the customer.
Company information
Registration number: SC173199
Interpoint Building, 22 Haymarket Yards, Edinburgh EH12 5BH
FCA registration
Reference No: 186022
Trading names: Buy Now Pay Later, Tesco Bank, Tesco Buy Now Pay Later, Tesco Clubcard Credit Card, Tesco Personal Finance Plc
Place of business: Interpoint Building, 22 Haymarket Yards, Edinburgh, Midlothian EH12 5BH
Data protection registration
Registration No: Z4988111
Data controller: TESCO PERSONAL FINANCE PLC
Address: Interpoint Building, 22 Haymarket Yards, Edinburgh, Midlothian EH12 5BH
Apply Now