Nationwide | Credit Card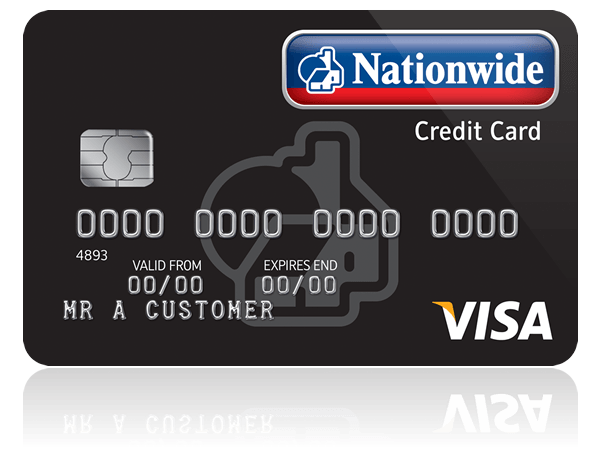 17.9% Representative
Intro purchase rate: 0% for 12 months
Purchase rate: 17.9%
Representative example:
Representative Example: The standard interest rate on purchases is 17.9% p.a. (variable), so when borrowing £1,200 the Representative APR will be 17.9% (variable).
Nationwide | Credit Card customer reviews.
300 reviews
2.3 out of 5 stars
great cashback
10:21 13-04-2018

Smart Money People
great cashback and easy to manage on app
J Robson
Excellent
20:36 09-02-2018

Smart Money People
Nationwide are always so helpful I would recommend them to my family and friends
Jessica
Nationwide
06:39 31-01-2018

Smart Money People
I have been a customer with Nationwide for 15 years and they have always given me a good service. If I have any issues they are always at hand to answer my call. They are always offering good competitive products and they reward there loyal customers.
Sarah Creed
Brilliant Credit Card - Helped me out
07:47 17-01-2018

Smart Money People
Nationwide has really helped me. As an 18 year old with no credit history, Nationwide was the only high street reputable lender that was offering me a credit card after carrying out Elegibility checkers. Good customer services over telephone and in branch. Credit card offered with good credit limit for an 18 year old. Online quotation given gives the customer to confidence to apply before a credit search is done. Shame about the recent cashback reduction but it's a sign of the times and not Nationwide's fault.
Mr P
Always great customer service.
20:35 05-12-2017

Smart Money People
I've always found the customer service at Nationwide to be absolutely brilliant. And the products are always very reasonable.
Susan James
Great
19:48 27-11-2017

Smart Money People
Allowed us to pay for holiday of lifetime for Christmas with minimum exchange fees. Also when payments were unauthorised as someone unlawfully stole our details to pay for vouchers online, excellent text alerts to contact and all monies refunded immediately with new card on way in the post. Excellent!
Keith Brewer
NW credit card
20:43 09-11-2017

Smart Money People
does the job - never any problems
AW Osborn
does the job
15:02 06-11-2017

Smart Money People
no problems using them.. efficient service
Stephen Wilshaw
Great Card
11:58 06-11-2017

Smart Money People
We use our credit card to pay for most things and then pay off the balance in full at the end of the month, this means there is no extra to pay back but we get cash back which over the course of the year ends up being around £75. It is a great card to use abroad as well.
Darren Bowden
Home & Abroad
14:53 09-08-2017

Smart Money People
Used anywhere with no additional charges.
Richard Jeffery
Our review of Nationwide | Credit Card
The Nationwide Credit Card offers customers 0% interest for a year on both purchases and balance transfers (completed within the first three months) – but you don't have to be an existing Nationwide customer to take advantage of this. During the introductory period there is no fee for balance transfers. After this period it goes up to 2.4%, which is still lower than most credit cards out there.
Those with a Nationwide Credit Card can reap many benefits and rewards when using their card – such as cashback and commission on any foreign transactions when spending in Sterling. There is also a high level of control as customers can use both online and mobile banking to view transactions and statements, complete balance transfers and make payments to their card.
A search of the web provides no reviews specific to the Nationwide Credit Card, however on TrustPilot Nationwide as a bank has received a rating of 'bad'. Although there are positive reviews, the negative ones tend to mention confusing online applications, less than perfect customer service and a sense of disorganisation with documents and cards going missing which in cases has resulted in the customers receiving charges.
Overall verdict: If you want to take advantage of the benefits then the Nationwide Credit Card could be for you. The 0% for 12 months on purchases and balance transfers is a good welcome offer, and being able to earn cashback and foreign transaction commission for the duration of having the card are an attractive ongoing incentive.
Highlights
0% on balance transfers for the first 12 months
0% on purchases for the first 12 months
Access to shopping rewards
Control your card via mobile banking and online
No annual fee
Use the card abroad
Minimum criteria
You must be aged over 18
You need to be a UK resident
You must have a gross income of more than £5,000 per year
No bankruptcy, IVAs or CCJs
You can't have missed 3 or more credit payments in the last year
Fees
Maximum APR %
Arrangement fee: £0
Early repayment fee: £0
Late payment fee: £0
About Nationwide | Credit Card
The Nationwide Credit Card has a representative APR of 17.9% on an assumed credit limit of £1,200. Unlike their Select Credit Card, you don't need to be an existing Nationwide current account holder to apply. There is a minimum credit limit of £500 but the upper limit is decided by Nationwide depending on the information provided during the application process. There is no annual fee for the Nationwide Credit Card, but there is a fee of 2.4% on balance transfers (after the first three months introductory period).
Customers of the Nationwide Credit Card will receive 0% interest on balance transfers for the first 12 months of opening the account, as long as they were made within the first three months. There is also 0% interest introductory period on purchases during the first 12 months. With the Nationwide Credit Card you can also make fee-free purchases abroad by earning commission on purchases made in Sterling. For example if you spend £100 in a month, then you'll be rewarded with £20 of commission-free allowance to use on purchases made abroad in their local currency.
Company information
Registration number: 04397736
Nationwide Building Society, Nationwide House, Swindon, SN38 1NW
FCA registration
Reference No: 106078
Trading names: Nationwide Building Society , Nationwide Financial Solutions , Cheshire Building Society, Derbyshire Building Society, Dunfermline Building Society, Salt Commercial
Place of business: Nationwide Building Society, Head Office, Nationwide House, Pipers Way, Swindon SN38 1NW
Data protection registration
Registration No: Z7074586
Data controller: NATIONWIDE BUILDING SOCIETY
Address: Nationwide Building Society, Head Office, Nationwide House, Pipers Way, Swindon SN38 1NW
Apply Now