marbles | Bad Credit Credit Card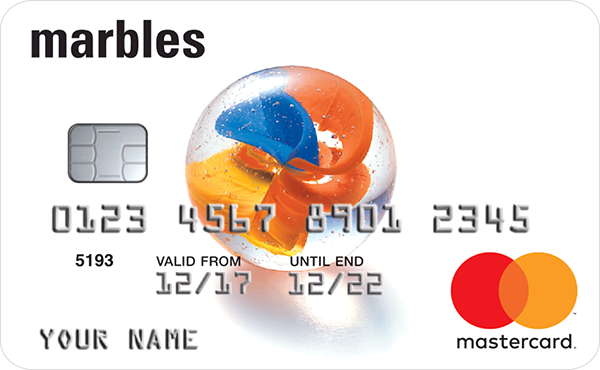 34.9% Representative
Purchase rate: 34.9%
Representative example:
Representative Example: The standard interest rate on purchases is 34.95% p.a (variable) with a representative 34.9% APR variable so when borrowing £300 the representative APR will be 34.9% (variable).
marbles | Bad Credit Credit Card customer reviews.
1763 reviews
4.5 out of 5 stars
Good credit building tool
22:34 29-06-2017

Smart Money People
Not the cheapest product on market but is good value for regular use and full payment each month. Using this helps those on lower credit scores build a better credit rating that definitely works. Don't use it as main source of credit as interest is relatively high.
Neil Martin
Real decline since NewDay took over
15:01 22-04-2017

Smart Money People
I have had a Marbles card for many years, but since NewDay took over the service has declined. Awful telephone menu not giving an option to talk to someone if your enquiry does not fit one of the limited options. Moved house recently and the online account facility allows you change address. Looks absolutely fine on-screen but Marbles system seems to have mangled old and new address so staements and correspondance comes out wrong. Three declined payments this week - do not know why as account less than 25% of limit, suspect the mangled account address not agreeing with details input on store website. Spent 29 minutes on phone being passed from one assistant to another (four in total), having to go through the security details each time, why can't they pass on the validation? Will most likely now be changing to another card supplier. Dec17 Update: Newday admitted the fault, but I still decided to change the card in May - very quick and easy to do. Multiple errors and not easy to contact meant that I decided it was time to move on.
Ian Grundy
Bad service
16:08 10-04-2017

Smart Money People
I really do not recommend this company to take something, terrible company
Sergejs
GREAR
16:22 13-04-2015

Smart Money People
I love their service. Friendly people and they work so fast!
KIM
About marbles | Bad Credit Credit Card
Aimed at customers who struggle to get accepted for a credit card, like those new to the UK, on a low income, self-employed or with no or bad credit.
The marbles credit card has a credit limit of up to £1,200 and you could receive an increase in credit on your fourths statement. The representative APR is 34.9% and no annual fee but you will be charged a fee of £12 if you make a late payment or go over your limit.
The representative APR is variable and is subject to status, ranging from 34.9% to 69.9% depending on your current financial situation and credit history.
The card comes with limited rewards but does benefit from free SMS messages to help customers stay on top of their account, a UK customer helpline and online account management.
The marbles credit card is provided by NewDay Limited who also provide the aqua and opus credit card, also an option for those with bad credit.
Company information
Registration number: 7297722
2 Pancras Square, London, N1C 4AG
FCA registration
Reference No: 690292
Trading names: Aqua Start, Aqua Advance, Aqua First, Aqua Gold, Aqua Reward, Aqua Classic
Place of business: 2 Pancras Square, London, N1C 4AG
Data protection registration
Registration No: Z272680X
Data controller: NewDay Ltd
Address: 2 Pancras Square, London, N1C 4AG
Apply Now