HSBC | Student credit card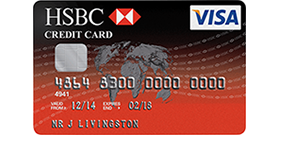 18.9% Representative
Intro purchase rate: 0% for 56 months
Purchase rate: 18.9%
Representative example:
Representative Example: The standard interest rate on purchases is 18.9% p.a. (variable), so when borrowing £1,200 the Representative APR will be 18.9% (variable).
HSBC | Student credit card customer reviews.
1502 reviews
1.3 out of 5 stars
Easy simple product
17:41 17-12-2018

Smart Money People
would recommend credit card no issues
Mandeep Bargota
Great to start with First time banking in UK
12:51 07-12-2018

Smart Money People
There is no doubt to start a bank account at very first time in UK. Provides great flexibility to a customer to have banking account and credit card at very first day when you approach HSBC Bank unlike other banks in UK. surprisingly HSBC follows and provides great fraud prevention based on the usage of your credit cards. Especially fast balance option is great innovative idea to see my balance without logging on the app. Clear details and description on the card statements. Thanks HSBC for being my first bank in UK and provides Credit card on first day.
Thayananth
Nice product to improve your credit score.
22:48 03-12-2018

Smart Money People
Product born to build a credit score in the UK. Difficult re paying option.
Francesco Sidori
Standard Credit Card
18:34 22-11-2018

Smart Money People
Very boring credit card, doesn't really offer any benefits and doesn't have the best rates on the market.
Tara Mardi
FRIENDLY
22:03 11-11-2018

Smart Money People
ALWAYS FRIENDLY - NEVER BEEN AN ISSUE
Flynn Rebecca
Dont avail any of HSBC service
06:01 24-08-2018

Smart Money People
HSBC is the worst bank that I have ever come across. The credit card department is useless and hopeless. I have logged couple of complaints on 14th Aug and till now (24th Aug) no communication even if I have chased them 6-8 times with 45 mins discussion each time. Every time, I received false commitment from CC folks, their manager and next level manager as well. It such pathetic situation. DONT ever…ever. and ever go for their service .. be it credit card or account opening or anything else
Gyana
HSBC credit card
12:04 04-04-2018

Smart Money People
Conducted a thorough application process to determine if the credit card (to be used for a balance transfer) was affordable before approving. Good customer experience so far.
Victoria Ingamells
no problems
13:45 09-02-2018

Smart Money People
Excellent service again from HSBC.
thokem
no problems
13:42 09-02-2018

Smart Money People
Excellent service as usual from HSBC....any queries sorted very quickly and smoothly
thokem
Easy and quick
15:11 07-01-2018

Smart Money People
Very easy and quick decision I would highly recommend
Louis Young
Our review of HSBC | Student credit card
The HSBC Student Credit Card is only available to customers that already hold a HSBC Student Bank Account and don't have any other student accounts elsewhere. As a bonus, if you are already registered with online banking then you can apply for the card on their website. Once accepted you will receive documentation in the post which you'll then need to sign and send back to them for the process to be completed.
To give their customers peace of mind, HSBC offer their Student Credit Card holders access to a dedicated team that can help if the card is lost or stolen, even if it happens abroad. This means that you won't be left stranded as you can apply for an emergency cash advance which you'll pay back at a later date. You've also got control over your HSBC Student Credit Card via online banking where you can make and manage payments.
Across the board, the HSBC Student Credit Card has average scores, including their simplicity and features. When searching the web for customer reviews there are none specific to the HSBC Student Credit Card, but we can look at the reviews on HSBC as a whole. Quite disappointingly they've received a rating of 'bad' from Trustpilot with customers complaining that they've had problems with their online accounts getting locked and poor communication from their customer service department.
Overall verdict: Despite the poor online reviews HSBC are one of the most well-known names in banking and there are satisfied reviewers out there. The rate for the HSBC Student Credit Card is competitive and the low initial credit limit can help students to learn how to use credit responsibly.
Highlights
Competitive representative APR of 18.9%
Manage the card with online banking
24 hour worldwide assistance and HSBC Mobile Banking App
No annual fee
Cashback available through Visa Offers
Up to £500 credit available
Minimum criteria
You must be aged 18 or over
You must have been a resident of the UK, Channel Islands or Isle of Man for at least 3 years
You must not have a student account with another bank
You must be/or are intending to be a university, college or part time student
You must be able to provide proof of your educational acceptance
Fees
Maximum APR %
Arrangement fee: £0
Early repayment fee: £0
Late payment fee: £0
About HSBC | Student credit card
The HSBC Student Credit Card has an initial capped credit limit of £500, interest is charged at a representative APR of 18.9% and there is no annual fee to pay. The credit limit can be increased if you prove yourself to be responsible with credit, however this amount will depend on your personal circumstances and previous experience with credit. To apply you can complete the application online, over the phone or by attending an appointment in branch. If you want to apply online then you will need to already have a HSBC Student Bank Account and must have already registered for online banking.
There are a number of benefits that come with the HSBC Student Credit Card such as 24 hour worldwide assistance if your card is lost or stolen. Customers are also able to manage their card using online banking to check the balance and make payments.
To be able to apply for the HSBC Student Credit Card you will need to prove that you are already studying or intending to study at a university or college, either full or part-time, in the UK, Channel Islands or Isle of Man. You can do so with a letter from UCAS stating your place of education.
Company information
Registration number: 14259
8 Canada Square, London E14 5HQ
FCA registration
Reference No: 114216
Trading names: First Direct First Direct Classic Visa First Direc
Place of business: 8 Canada Square, London E14 5HQ
Data protection registration
Registration No: Z5734875
Data controller: HSBC BANK PLC
Address: 8 Canada Square, London E14 5HQ
Apply Now