Capital One | Classic credit card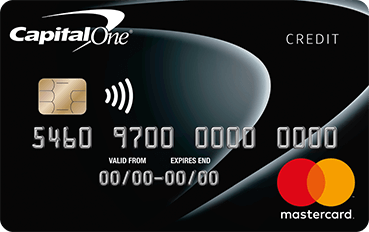 Representative 34.9% APR
Purchase rate: 34.94%
Representative example:
Representative Example: The standard interest rate on purchases is 34.9% p.a. (variable), so when borrowing £1,200 the Representative APR will be 34.9% (variable).
Capital One | Classic credit card customer reviews.
68 reviews
2.0 out of 5 stars
Highlights
Online account management portal
Limit up to £1,500 available
Good option for those with bad credit
CCJs or defaults in the past will be considered
Credit builder card
Minimum criteria
You need to be aged 18 or over
You must have had credit in the past in the UK
Bankruptcy must have been discharged over 12 months ago
You must be registered on the electoral roll
Fees
Introductory Balance Transfer Rate: 0%
Introductory Balance Transfer Fee: £0
Introductory Purchase Rate: 0%
Balance Transfer Rate: 34.94%
Balance Transfer Fee: £3
Purchase Rate: 34.94%
Fee Amount: £3
Representative APR: 34.9%
About Capital One | Classic credit card
Capital One is a giant in the credit card industry which is why it is no surprise that they offer a bad credit credit card. Depending on personal circumstances, customers could receive a credit limit of £200 to £1500 with an advertised representative APR of 34.9%. The card is designed to help those with unfavourable credit work towards improving their credit score. Over 6 million customers are using the Capital One Classic credit card and potential customers can use an eligibility checker to see if they are likely to be accepted for the card without affecting their credit score.
To apply for a Classic Credit Card, you will need to complete the application online and you can receive the decision within minutes. If you're approved then your card will take between 7 and 10 days to reach you, although the PIN will arrive first. Once you've received your card, you can apply to increase your credit limit up to two times a year.
Company information
Registration number: 3879023
Trent House Station St, Nottingham, Notts, NG2 3HX
FCA registration
Reference No: 204440
Trading names: Capital One (Europe) plc
Place of business: Trent House Station St, Nottingham, Notts, NG2 3HX
Data protection registration
Registration No: Z4908826
Data controller: Capital One (Europe) plc
Address: Trent House Station St, Nottingham, Notts, NG2 3HX
Apply Now