Capital One | Classic credit card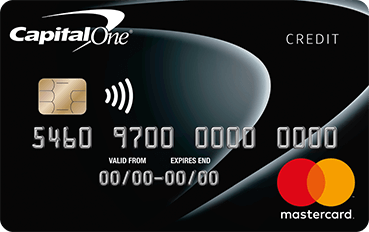 34.9% Representative
Purchase rate: 34.94%
Representative example:
Representative Example: The standard interest rate on purchases is 34.9% p.a. (variable), so when borrowing £1,200 the Representative APR will be 34.9% (variable).
Capital One | Classic credit card customer reviews.
232 reviews
3.3 out of 5 stars
The app contains details of both my cards
18:34 06-11-2018

Smart Money People
The app is easy to use and I can switch between both my card balances.
Sean
This card will keep you credit rating low
08:40 14-04-2018

Smart Money People
Capital One market their cards as credit builders however they keep your credit score low by NOT increasing your credit limit past £1000 which flags a lack of trust to other lenders... all is nit as it seems with this company so beware before you apply very high interest rates and low credit limits. Poor customer service is just the tip of the iceberg
A groovy
Grwat company!
10:05 05-04-2018

Smart Money People
Very good Customer Service, very helpful staff and brilliant at spotting fraudulent transactions. A*
Shirelle Bolton
Fast, Efficient and Practical
08:18 05-04-2018

Smart Money People
Approval was fast and efficient and I was kept well informed of the process from start to finish. Managing the card is easy through a variety of avenues from a customer care line to their polished and very useful app, and the service is exactly what you need for a daily use credit card.
Caojem
There when you need it
16:30 04-04-2018

Smart Money People
I don't know what I'd have done if Capital One hadn't accepted my application for a credit card! They took me on when no-one else would. The repayments are manageable and their website is really easy to use. They reward my loyalty and reliability by increasing my credit limit by sensible amounts.
Anon
Got accepted when no one else would give me a card
14:43 04-04-2018

Smart Money People
Had no issues with the card or app
Rob
Got accepted when no one else would give me a card
14:41 04-04-2018

Smart Money People
I got a credit card from capital one very easily. No issues with the card and the app is easy to use.
Rob
excellent no-nonsense credit card
12:30 04-04-2018

Smart Money People
at no point have i felt like i was being ripped off, which is quite standard in this industry
Gregory Davies
Can always sort out problems
10:28 04-04-2018

Smart Money People
When I had a mystery payment on my account, the agent found out who it was and a contact number for me to cancel it and got a refund sorted. No fuss. When I stopped a regular payment, it was stopped immediately. The agents are always friendly and polite.
Karen Ryan
Customer service
13:52 15-11-2017

Smart Money People
A great company offering great customer service, any problems professionals dealt with and always a competitive interest rate
Anonymous
About Capital One | Classic credit card
Capital One is a giant in the credit card industry which is why it is no surprise that they offer a bad credit credit card. Depending on personal circumstances, customers could receive a credit limit of £200 to £1500 with an advertised representative APR of 34.9%. The card is designed to help those with unfavourable credit work towards improving their credit score. Over 6 million customers are using the Capital One Classic credit card and potential customers can use an eligibility checker to see if they are likely to be accepted for the card without affecting their credit score.
To apply for a Classic Credit Card, you will need to complete the application online and you can receive the decision within minutes. If you're approved then your card will take between 7 and 10 days to reach you, although the PIN will arrive first. Once you've received your card, you can apply to increase your credit limit up to two times a year.
Company information
Registration number: 3879023
Trent House Station St, Nottingham, Notts, NG2 3HX
FCA registration
Reference No: 204440
Trading names: Capital One (Europe) plc
Place of business: Trent House Station St, Nottingham, Notts, NG2 3HX
Data protection registration
Registration No: Z4908826
Data controller: Capital One (Europe) plc
Address: Trent House Station St, Nottingham, Notts, NG2 3HX
Apply Now