Bread Card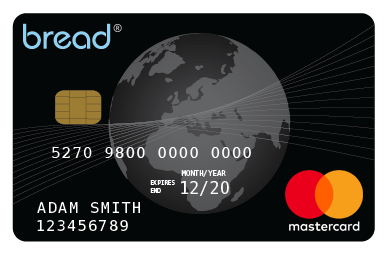 Monthly fee: Free
Card fee: £7.50
No reviews for Bread Card
Our review of Bread Card
The Bread Card seems to be a no-hassle pay-as-you-go style prepaid card. It can be topped up at the Post Office, or by bank transfer and you can even get your wages paid directly to it if you give your employer the details. The majority of top up methods are free but you'll pay 3% of the total at a PayPoint location and £1 if using a UK Debit Card. There are also a number of fees that you'll have to pay for using the card, which could add up in the long-run. Using the Bread Card at a shop means that you'll have to pay 2% of the transaction value and if you want to withdraw cash from a cashpoint in the UK, then you'll need to pay £1.50.
Earning cashback with the Bread Card is a nice bonus, but you have to jump through a number of hoops to qualify. You'll need to be registered to use their online management portal, and you will have to access the retailers' websites with Bread's specific links. This can be inconvenient if you are used to using an app on your phone or if you forget to log in before visiting the retailer's site. However, any cashback earned is applied directly to your card and possible retailers include well-known names such as B&Q, Debenhams and Domino's Pizza.
Finding online reviews about the Bread Card or even just Bread as a whole has proved quite difficult. This could be due to not many people actually owning, or using these cards – or if they are, they just aren't writing about it. Looking at the Bread website, the latest special offers they have in their news section are from 2010 so I would question how popular they are now.
Overall verdict: It's nice not to pay a monthly fee for the Bread Card, but it does seem that you're going to accrue quite high charges if you are using this as your main purchasing tool as 2% of every in-store transaction can add up and even the cashback you can earn might not balance that out. If you're considering signing up for a prepaid card it's worth shopping around.
Highlights
Pay-as-you-go top up card
Accepted in over 30,000 locations in the UK
Your wages can be topped up onto the card
Receive your current balance by text for free
View balance and transactions online
Minimum criteria
You must be aged over 18
You need to be a UK resident
You must be able to verify your identity
Fees
Maximum APR %
Arrangement fee: £0
Early repayment fee: £0
Late payment fee: £0
About Bread Card
To use the Bread Card you will need to top it up online, in PayPoint locations or Post Office branches. It can be used to withdraw cash from ATMs across the world, shop online, make travel reservations, regular day-to-day purchases and even transactions that may be overseas. There is no monthly or annual fee, however there is an initial charge of £7.50 which goes towards issuing the Bread Card.
Designed to help people control their finances, the Bread Card can be useful for customers looking to limit their spending or avoid going over budget by setting a spending limit and loading the amount budgeted onto the card. Customers can check their Bread Card balance by logging in via the website. The maximum amount that can be on the card at any time is £3,500.
When applying for the Bread Card, customers can earn £5 cashback as a welcome offer. Also, using the card for spending online in high street retailers such as Boots, Asda, WH Smith and Marks & Spencer can earn cashback which is then applied directly to your Bread Card. To earn this cashback you will need to use the links from their website rather than going to them via a search engine or mobile app.
FCA registration
Reference No: 900051
Place of business: 3A The Plough Brewery, 516 Wandsworth Road, London SW8 3JX
Data protection registration
Registration No: Z3282001
Data controller: Wirecard Card Solutions Ltd
Address: 3A The Plough Brewery, 516 Wandsworth Road, London SW8 3JX
Apply Now