APS | iCount Pay Monthly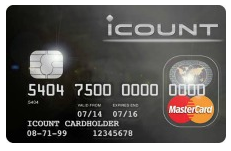 Monthly fee: £9.95
Card fee: £4.95
APS | iCount Pay Monthly customer reviews.
6 reviews
3.0 out of 5 stars
Not satisfied and a waste of Fund
17:53 30-10-2018

Smart Money People
Open my account. Check balance before I paid money to the account, it states I got 9 Pounds. I put nothing to the account at this point. Check balance again after few hours, got a zero balance. I decided to pay money into it so I can make a payment. Try out 20 pounds to start with, check balanace in a few hours, available balance was 20 pounds. Check balance few days after 1 pound left. Shocking as I did not use the card as I was waiting for the pin number. Shocking.
OBee
Banking at its easiest
09:56 17-05-2017

Smart Money People
Was turned away from high st banks due to previous debts. Was recomended icount and never looked back since. Amazing functionalities too
Justine
Great Current account
09:54 17-05-2017

Smart Money People
I was recomended this account by a friend. Got my account details straight away and card 4 days later. I have my salary paid in and got all my direct debits set up. Banking made easy really!
Justine
Avoid Like Hell
12:20 02-12-2016

Smart Money People
Applied, Sent Certified Documents £5 Declined, No Refund for Certified Documents, AVOID LIKE HELL
QQQ
I think the previous reviewer must be confused
14:04 11-05-2016

Smart Money People
icount is the new name of ClearCash and all that has changed is the branding and website. Fees are the same as they have always been.
Marc Gregor
A sly and crafty organisation
12:31 14-04-2016

Smart Money People
I have used this company for a few years, and it was fine until about 6 month's ago, when it changed to icount. They changed to an Indian call centre. They started taking random amounts each month (Clearcash was fee free). They totally messed up my PayPal account (and then charged me £10 for the privilege!). The final straw was when I paid a bill with the card, and they took £5.95 for their fee, left me in debt, and tried to charge me £15 "because there were insufficient funds to cover the original bill!" Avoid this company at all cost, they will attempt to rob you blind!!!
Angela Harvey
Our review of APS | iCount Pay Monthly
One thing that can be said for the iCount Pay Monthly card is that there's a lot of control given to the customer. You can check your last five transactions or check the balance of your card via text. Customers who may have had problems with credit or finance in the past may find this ease of visibility particularly helpful.
APS also boast about their dedicated mobile app. Through this, customers can see their account summary and latest transactions, retrieve account details for online purchases and manage any additional cards that are on the account. With the iCount Pay Monthly card, customers can add members of their family onto the account with their own card, as long as they are over the age of 13.
Looking online there are no reviews for the iCount Pay Monthly card. This could beg the question how many of their cards have actually been issued.
Overall verdict: There are cards out there that you won't have to pay monthly fees for. However, if you want to have greater visibility and control of your balance, as well as the added bonus of purchase protection then the iCount Pay Monthly is worth considering.
Highlights
Work towards improving credit history
Accepted where you see the MasterCard logo
Load it with £20 in the first 30 days and your application fee is refunded
Text alerts
Purchase protection
Manage the card via mobile
Minimum criteria
You must be aged at least 18
You need to be a UK resident
Additional cardholders must be over 13 years old
Fees
Maximum APR %
Arrangement fee: £0
Early repayment fee: £0
Late payment fee: £0
About APS | iCount Pay Monthly
The iCount Pay Monthly card, issued by APS, is a prepaid credit card that comes with a number of benefits such as being able to set up Direct Debits, standing orders and bill payments as well as purchase protection. The maximum that can be loaded onto the card in total is £5000 and you have the ability to withdraw a maximum of £500 per day. There is a fee for the iCount Pay Monthly card of £9.95 as well as an initial card issue fee of £4.95, with any additional cards or replacement cards charged at £5.95. If you load at least £20 onto your iCount Pay Monthly Card within the first 30 days of opening it, then you'll be refunded your application fee of £4.95.
There are a number of other fees that need to be paid as you use the iCount Pay Monthly card. Although it's free to load the card by either bank transfer or by having your wages transferred to it monthly, you will need to pay if you load more than £1,000 onto it a month in a Post Office branch or Cashplus retail outlet. You won't have to pay to view your balance online using the website, but if you want to do this by phone or text then you will have to pay small charges.
Customers can also benefit from purchase protection if using the iCount Pay Monthly card to make purchases online. This protects against faulty or damaged purchases, goods that don't arrive as expected or at all.
FCA registration
Reference No: 671140
Trading names: Cashplus
Place of business: 6th Floor, One London Wall, London EC2Y 5EB
Data protection registration
Registration No: Z9718465
Data controller: APS Financial Ltd
Address: 6th Floor, One London Wall, London EC2Y 5EB
Apply Now