Quidie Online Lending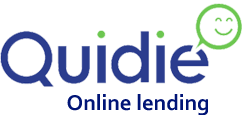 447.5% Representative
Will lend between: £100 - £1,000
Over: 2 - 6 Months
Representative example: Amount of credit: £300 over 3 months. Interest: £92.85. Interest rate: 180% pa – fixed. Three repayments of £130.95. Total amount payable: £392.85. Representative APR 447.50%
Contact Quidie Online Lending
The quickest way to find the best loan.
Compare UK direct lenders that have accepted you.
Fill in one quick and simple form.
Loans for all purposes.
Bad credit history accepted.
Get accepted
Representative 49.9% APR.
Quidie Online Lending customer reviews.
5 reviews
3.4 out of 5 stars
Avoid
15:06 27-02-2016

Smart Money People
Looks shiny and friendly but interest rates are still ridiculous. After using have found a good budgeting app which keeps me on track.
Emma
issue
16:24 03-02-2016

Smart Money People
i had a issue with my bank card as i lost it, i called quidie explained the situation were so helpful and understanding i spoke with a guy called Alex on web chat who was dealing with my issue, so i got him to change the date of my repayment which was simply easy to be honest, which i was satisfied with.
James Lee Vardy
Loan/Customer service
12:00 03-02-2016

Smart Money People
Great customer service i was having trouble with some personal issues and they took this in to consideration and instead of giving me hassle they helped QUIDIE!!!!!!!!!!!!! The best
Matt Bennet
Loan
10:49 03-02-2016

Smart Money People
Quick and efficient. Would definitely recommend to a friend if they needed a loan like me
Lynette Reeves
Expensive
18:11 30-11-2015

Smart Money People
Maybe a bit better than a traditional payday lender but still not great, but when you most need a loan you've got to sometimes take a hit.
Donny
Our review of Quidie Online Lending
Quidie Online Lending offer a representative APR of 423.80%, and their product is fairly standard compared to their competitors but does include things like no charges for early repayment and online account management.
The application process is also pretty much the same as others on the market and Quidie Online Lending will ask you the usual questions about your financial circumstances to determine whether you'll be able to pay back the loan. One thing that does set them apart is that they offer a live chat service on the website and you can complete all of the application, including signing for the loan online.
As with any high-cost short-term product the usual warning applies. If you have any doubt whether you can afford to repay your loan on time and in full, then don't apply. By missing or being late with repayments, you will not only harm your credit file but could be subject to a number of fees, which can soon make things very expensive.
Overall verdict: Quidie Online Lending offer an expensive product and you should consider your alternatives carefully before applying. Saying this, if you do decide to go down the route of a high-cost short-term loan it's worth considering Quidie. Customers who have dealt with them seem to have had a positive experience, so they're obviously doing something right.
Highlights
Live chat service on the website
No charge for fast transfers
Existing customers can apply through their online account
Early repayments available at any time up to the due date
Minimum criteria
You must be aged at least 21
You must be in regular paid employment
Fees
Maximum APR 447.5%
Arrangement fee: £0
Early repayment fee: £0
Late payment fee: £5
Quidie Online Lending Customer Question & Answers
Have a question for Quidie Online Lending?
Ask the first question
About Quidie Online Lending
Quidie Online Lending offer loans from £100 to £1,000 over a maximum of 6 months. Their representative APR is 447.50% and interest of 180% pa. To complete an application customers will need to fill out the form online, go through affordability and credit checks and will then be given a decision on the loan. If successful the applicant will need to confirm the loan using esignature and once everything is confirmed the loan can show in your bank within 15 minutes.
Customers of Quidie Online Lending need to be at least 18 years old, a U.K. resident and in regular paid employment. During the application process they will assess whether you'll be able to afford the loan and this will go towards the decision. The length of the loan can be between 2 and 6 months and will be determined by your next payday, however, if that is less than 7 days, it will be your following payday.
There are no hidden charges for early repayment or arranging the loan, however charges will occur if there are late payments. As with most responsible lenders, you will never pay back more than 100% of your original loan.
Company information
Registration number: 8110266
Marco Polo House, 3-5 Lansdowne Road, Croydon, CR0 2BX
FCA registration
Reference No: 651565
Trading names: Quidie Online Lending, Quidie.co.uk, Quidie.com, Fernovo Online Lending, Fernovo.com, Fernovo.co.uk
Place of business: 25 North Row, London, W1K 6DJ
Data protection registration
Registration No: ZA073806
Data controller: QUIDIE LIMITED
Address: 25 North Row, London, W1K 6DJ
Apply Now