TrustTwo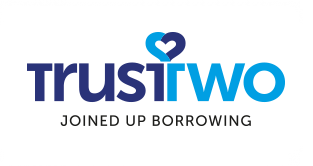 49.74% Representative
Will lend between: £500 - £10,000
Over: 12 - 60 Months
Representative example: Representative Example: If you borrow £5000 over 36 months at a Representative rate of 49.74% APR and an annual interest rate of 41.06% (variable) you would pay 36 monthly instalments of £243.65. The total charge for credit will be £3,771.52 and the total amount payable will be £8,771.52.
Are you eligible for TrustTwo?
Check your eligibility before you apply.
Quick 40 second form.
No impact on your credit file.
Free personalised eligibility score.
Check Eligibility
TrustTwo customer reviews.
2 reviews
3.0 out of 5 stars
Great price good service
10:56 28-10-2014

Choose Wisely
All very quick signed my documents online, chose them as they are the cheapest and their service was good too
Dan
A Joke
16:31 27-08-2014

Choose Wisely
I applied for a loan with this loan company and my guarantor was Turned down for a 5000 loan, which is a joke because my guarantor has been a guarantor before and paid off loan just fine. They didnt contact me, or my guarantor, we done all the running about and whats annoying most is they should state a loan has been provisionally approved, not state to both myself and my guarantor that application was approved........wrong! A company that is a waste of time
Mark Mikker
Our review of TrustTwo
TrustTwo is a relatively new guarantor product from Everyday Loans based in Buckinghamshire. If you don't know what a guarantor loan is, have a read of our guide all about guarantor loans.
TrustTwo offer guarantor loans between £500 and £10,000 to people who struggle to get credit, as long as they have a friend or family member who can support their application. TrustTwo allows tenants, homeowners and those living with parents to act as a guarantor. It's worth noting that a guarantor who is a homeowner will however, have a greater likelihood of acceptance.
TrustTwo have plenty of highly praised reviews on Feefo (a 99% overall satisfaction score). Their positive reviews include praise from consumers regarding the guidance and support provided gby TrustTwo's customer serce svitaff throughout the process. What does let them down is their seemingly long-winded application process, with some reviews commenting on the lengthy time from application to payout.
As with any guarantor product the usual guarantor loan health warning applies; they can be a suitable option for those looking to rebuild their credit histories but if you're in any doubt about being able to make your repayments, I wouldn't advise applying as your guarantor will have to pick up the pieces. If you're considering becoming a guarantor for a TrustTwo loan, it pays to think carefully. If you do decide that you want to help someone out, there may be cheaper ways to do it including lending the money to them yourself or taking out a loan in joint names.
Overall verdict: As guarantor products go, TrustTwo is a worthy contender. They're slightly cheaper than others on the market and although their process can be long-winded, they do support and communicate with you throughout the process and the loan term. Just make sure you and your guarantor know exactly what you're getting into before you sign anything.
Highlights
You don't need to have good credit history
Your guarantor can be a tenant or homeowner
You can choose weekly or monthly repayments
They don't charge any upfront fees
You guarantor can be living with their parents
Minimum criteria
You will need to be aged over 18 years
You must be a UK resident
No bankruptcy, IVAs or debt management plans
Your guarantor must be aged between 25 and 74
Your guarantor can be someone close to you but not a spouse
Fees
Maximum APR 49.74%
Arrangement fee: £0
Early repayment fee: £0
Late payment fee: £0
About TrustTwo
TrustTwo offers guarantor loans from £500 to £10,000 over a period of one and a half to five years. Their representative APR is 49.5% if your guarantor is a homeowner, 49.9% if your guarantor is a tenant or living with their parents, and these scores depend on your personal circumstances, how much you're looking to borrow and the loan term.
Their loans are targeted towards people that have been turned down elsewhere for credit, however they will not accept customers who have been declared bankrupt, are in an IVA or are under a debt management plan.
In order to apply, customers will need a guarantor and will accept family members, friends or work colleagues between 25 and 74 years of age. TrustTwo accept both tenants and homeowners as guarantors, however, if they're a homeowner it will improve their likelihood of being accepted. Your guarantor must also have a good credit history and be able to cover repayments if you're unable to.
TrustTwo offer a range of payment options such as weekly or monthly and customers are able to settle their loan early at any time.
Company information
Registration number: 05850869
Secure Trust House, Boston Drive, Bourne End, Buckinghamshire SL8 5YS
FCA registration
Reference No: 724445
Trading names: Everyday Loans
Place of business: Secure Trust House, Boston Drive, Bourne End, Buckinghamshire SL8 5YS
Data protection registration
Registration No: Z9591892
Data controller: Everyday Loans Limited
Address: Secure Trust House, Boston Drive, Bourne End, Buckinghamshire SL8 5YS
Apply Now