Trusted Quid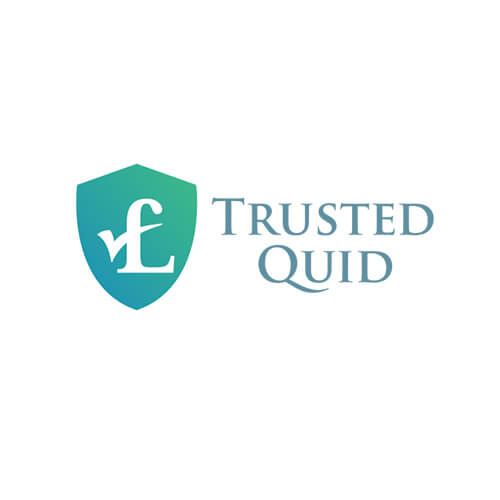 1212.95% Representative
Will lend between: £100 - £1,500
Over: 6 - 6 Months
Representative example: If you borrow £300 over 6 months at a Representative rate of 1212.95% and an annual interest rate of 284% (fixed), you would pay 6 payments – 1st £94.28, 2nd £110.15, 3rd £95.25, 4th £87.45, 5th £73.41, 6th £61.26. The total Charge for credit is £219.47 and the total amount payable is £519.47.
Are you eligible for Trusted Quid?
Check your eligibility before you apply.
Quick 40 second form.
No impact on your credit file.
Free personalised eligibility score.
Check Eligibility
Trusted Quid customer reviews.
13 reviews
2.8 out of 5 stars
Nice product
09:34 10-07-2017

Choose Wisely
Decent flexible product that sorted me out during a bad few months. Was able to draw on the credit line twice during the term of the agreement and paid back early on the second meaning I paid less back and saved money!
John
Quick turnaround
22:05 08-02-2018

Smart Money People
Had a couple of loans from this company and been straightforward and helpful.
Gemma
Trusted quid cannot be trusted!
14:08 14-01-2018

Smart Money People
Do not be fooled by the good reviews on this company, they have been submitted by the company itself believe me. This company destroyed will lie to you and tell you it can give you a loan in order to get you to go through the application process and then tell you you are not accepted without any explanation. This company is prepared for people to wreck their credit scores further in order to get as many applications as possible. The ombudsmen is currently investigating this company at my request and is not happy with their practices. Please go elsewhere if you need a payday loan that badly!
James wells
easy to deal with
16:25 22-11-2017

Smart Money People
had a number of loans with them and found them to be great.
Yuri
Customer service and pay day agreement
15:22 31-10-2017

Smart Money People
I had a loan from this company. When i checked repayment day before it was supposed to go out, it showed £50+. They took out just over double the amount. When i called to complain got nothing but rudeness and sarcasm. Do NOT USE.
Inran
Bombardment of calls, texts & emails
15:20 29-06-2017

Smart Money People
I received a link to a credit broker with a view to taking on a debt consolidation loan. The broker put me through to Trusted Quid who then bombarded me with texts, calls and emails, despite the product not meeting my original enquiry through the broker. I wish I could remember the broker name as well but can't, but also very wary of Trusted Quid who seem to think they could make the shoe fit when it was clearly the wrong size. Stay clear as they will pester you
Tom Manning
Need cash in a dash
09:47 29-06-2017

Smart Money People
If your in a financial pickle and need a little help,you can trust Trusted Quid to help you out,simple and straight forward and transparent
Jeremy
Dishoanast
14:52 25-06-2017

Smart Money People
I have a loan with them, but happen that i facing some hard time so ring them to try find solution how could repay loan but in smaller instalments, so they said ok firstly cancel DD because it was like two days before due day. and call on the day when repayment have to go. so on the day checked my bank acc DD did not went through because i cancelled it with my bank, but they took money anyway because they had my card details. Still cannot finde agreement for reduce payments.
Martynas Simutis
Decent Lender
21:07 22-06-2017

Smart Money People
have used this company on a couple of occasions, treated well by staff and made to feel that they appreciated my business.
Mike
No funds
15:56 05-06-2017

Smart Money People
Approved..2 days later no funds in bank.. I'll be contacting them!!
Anonymous
Our review of Trusted Quid
Trusted Quid is a short term lender based in the Edinburgh suburbs, serving customers since 2011. They specialise in providing high cost short term loans, with a very clear repayment schedule. Trust is in their name, so the company has focused on customer service and building lasting consumer relationships.
Trusted Quid provides loans of between £100 and £1500, although first time customers typically receive £250. The company only lends as much as they believe their customers can afford to repay. The loan term is fixed at six months, although you won't pay a penalty for early repayment. The costs are set out very clearly on the Trusted Quid website, where you can apply online. There is a fixed APR, and the company evens lets you know the actual cost of the interest you will be paying per day.
As a small company, Trusted Quid has very few reviews available at the time of writing. Customer opinions are mixed, and we'd like to know more about people's opinion of the application process. The company has an interesting offer of a reward card and website for customers who finish paying off their loan, which provides discounts in shops and restaurants. This perk has been mentioned in the reviews as a good reason to choose a loan from Trusted Quid. However, all short term loans are a high cost way of borrowing and it's important to compare your options and check you can afford the repayments before applying.
My Verdict: A small company focused on customer service and building relationships with consumers, Trusted Quid are worth looking into. Their loyalty card offer is a clever way to reward customers who have completed their repayments. As with any short term loan, be sure you've compared all your options and are confident you can afford the repayments before you apply.
Highlights
No surprise charges
Access to Trusted Quid Rewards Programme upon completion of first loan
Same-day funds available
Minimum criteria
You must be a UK resident
You need to be at least 18 years old
You must be full time employed and make at least £1000 per month
You must have a UK bank account with a debit card
You must not be bankrupt
Fees
Maximum APR 1256.56%
Arrangement fee: £0
Early repayment fee: £0
Late payment fee: £15
About Trusted Quid
Trusted Quid is a short term lender that provides loans between £100-£1,500 over 6 months. If you successfully complete your first loan you may be eligible for access to the Trusted Quid Reward Programme.
If you miss a payment you may be subject to a one off late payment fee of £15.
Company information
Registration number: 07112031
Stadium House Business Centre, Alderstone Road, Livingstone, EH54 7DN
FCA registration
Reference No: 673703
Trading names: Trusted Quid
Place of business: Stadium House Business Centre, Alderstone Road, Livingstone, EH54 7DN
Data protection registration
Registration No: Z254298X
Data controller: FCA
Address: Stadium House Business Centre, Alderstone Road, Livingstone, EH54 7DN
Apply Now