Tick Tock Loans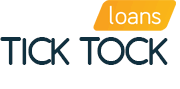 No reviews for Tick Tock Loans
1218.63% Representative
Will lend between: £200 - £1,000
Over: 3 - 6 Months
Representative example: Borrow £300 and pay £125.53 per month for 4 months at a fixed interest rate of 292% per year. The total charge for credit is £202.00 (all interest). The Total Repayable is £502.00. 1218.63% APR Representative.
Are you eligible for Tick Tock Loans?
Check your eligibility before you apply.
Quick 40 second form.
No impact on your credit file.
Free personalised eligibility score.
Check Eligibility
No reviews for Tick Tock Loans
Our review of Tick Tock Loans
Tick Tock Loans are a new lender which are backed by the more established Savvy Loans. They're based in London and accept customers via their website, contacting them by phone to complete the application process. Tick Tock Loans focus on providing people with short term loans that have fast payouts and good customer service.
The loans are available for between £200 and £1000, which can be borrowed for 3 to 6 months, depending on the value. Tick Tock Loans don't charge a fee for lending, so the loan has a relatively high APR to make up for this. The company has an ethical approach to lending, reaching out to customers before charging a fine for late repayment. However, as with all short term loans, the cost of borrowing is very high and there may be better options available to you.
As a new company, Tick Tock Loans doesn't have a lot of reviews online, so it's hard to tell what their customer service is like. However, their parent company Savvy has a reasonable reputation. Tick Tock Loans does seem to be built around the customer experience, with a simple website and sensible approach to the application process. After you have completed the first part of the application, a dedicated customer support agent will phone you up to complete it. This means that you'll have an opportunity to ask questions and hear more about exactly what you're signing up for. It's worth working out how much you can afford to repay before applying - try to avoid applying for more than you need.
Our Verdict: Tick Tocks loans are a fresh new company with some good ideas about keeping their customers informed. The company is backed by the more-established Savvy Loans, but it's hard to tell how good their customer service is at this early stage. If you're considering a short term loan, it's wise to check that you can afford the repayments and compare your options before applying.
Highlights
Less that perfect credit considered
Their manual underwriting considers each application on its own merits
No early settlement fee
Minimum criteria
You may be subject to a fee of £12 is you miss a payment
You must have a direct debit facility
You must be a UK resident
You must be at least 18 years of age
You will have to verify your employment status
Fees
Maximum APR 1250%
Arrangement fee: £0
Early repayment fee: £0
Late payment fee: £12
About Tick Tock Loans
Tick Tock Loans are a short term loan provider offering instalment loans over 3-6 months periods and loan amounts ranging between £200 and £1,000.
They consider customers with less than perfect credit and take each application its own merit.
Company information
Registration number: 08582046
Office 304, 154-160 Fleet Street, London EC4A 2DQ
FCA registration
Reference No: 718888
Trading names: Tick Tock Loans
Place of business: 2 Office 61 , 2 Lansdowne Row London W1J 6HL
Data protection registration
Registration No: ZA052861
Data controller: Savvy Loan Products Ltd
Address: 2 Office 61 , 2 Lansdowne Row London W1J 6HL
Apply Now