Koyo Loans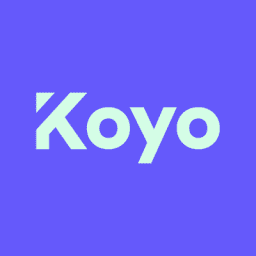 Representative 24.9% APR
Will lend between: £1,500 - £12,000
Over: 6 - 60 Months
Representative example: If you borrow £4,000 over 36 months, at 24.9% Representative APR and an Interest rate of 22.44% pa (fixed), you would repay 35 monthly payments of £154.24 and a final payment of £153.91. The Cost of Credit would be £1,546.36. Total amount payable £5,546.36
Are you eligible for Koyo Loans?
Check your eligibility before you apply.
Quick 40 second form.
No impact on your credit file.
Free personalised eligibility score.
Check Eligibility
Koyo Loans customer reviews.
1060 reviews
4.8 out of 5 stars
Our review of Koyo Loans
Koyo is the UK's first lender to base its lending decision on open banking as opposed to your credit file. This makes Koyo an exciting prospect for those who are new to the country or have a limited credit history (known in the industry as a thin or ghost file).
By utilising open banking technology Koyo is able to offer one of the most competitive rates for an alternative lender. You can expect to receive an APR between 25% - 45%. Applying for a loan with Koyo takes around 3 minutes, and you should receive a decision within 1 working day.
It's key to note that Koyo does not offer loans to those with a poor credit history. Therefore If you're looking to borrow money and have a history of defaults, CCJs or missed payments, applying with Koyo is unlikely to be the answer.
Highlights
No upfront fees or late repayment fees
You don't need a guarantor
You don't need 3 years of address history, just 6 months will do
Minimum criteria
Cannot be self-employed
Cannot be bankrupt
Must not have any CCJ's or history of bad credit
Fees
Maximum APR 30.9%
Arrangement fee: £0
Early repayment fee: £0
Late payment fee: £0
About Koyo Loans
Koyo Loans is an unsecured lender offering loans from £100 to £5,000 over 12 to 36 months and they offer loans to customers who are new to credit, or have no credit history at all due to being new to the country. Koyo Loans identified that there are over 6 million of these poeple in the country and thye're on a mission to provide fairly priced credit, to those who have little or no options through no fault of their own, with a vision to help create a world with greater mobility by providing everyone with their fundamental right to credit.
There are no upfront costs or late repayment fees. If your application is approved, money could be in your acount within 1 working day.
Company information
Registration number: 11483187
Huckletree Soho Koyo Loans,
FCA registration
Reference No: 826425
Trading names: Koyo
Place of business: Huckletree Soho Koyo Loans, Ingestre Court, Ingestre Place, London, England, W1F 0JL
Data protection registration
Registration No: Z1115669
Address: Huckletree Soho Koyo Loans, Ingestre Court, Ingestre Place, London, England, W1F 0JL
Apply Now