Buddy Loans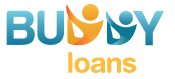 Representative 49.9% APR
Will lend between: £1,000 - £10,000
Over: 12 - 60 Months
Representative example: If you borrow £3,250 over 36 months at a Representative rate of 49.9% and an annual Interest rate of 41.16% (fixed), you would pay 36 instalments of £158.57. The total cost of credit will be £2,464.67 and the total amount payable will be £5,714.67.
The quickest way to find the best loan.
Compare UK direct lenders that have accepted your application.
Fill in one quick and simple form.
Loans for all purposes.
Bad credit history accepted.
Get accepted
Representative 49.7% APR.
Buddy Loans customer reviews.
3255 reviews
4.7 out of 5 stars
Our review of Buddy Loans
Buddy Loans are a guarantor lender based in Cheshire and offer an almost identical product to the other late entrants to the guarantor loan market. If you don't know what a guarantor loan is, have a read of our guide all about guarantor loans.
Buddy Loans price their product very similarly to other guarantor lenders, which can certainly be considered a competitive rate. Their online customer accounts make the process easier to manage once it's set up and gives you clear visibility of your loan. There are also no fees for fast payout or settling the loan early. Reviews online, specifically on TrustPilot paint a rosy picture of Buddy loans and are overwhelmingly positive. They also write to each of their reviewers expressing their gratitude for good reviews – a nice personal touch I think.
The usual warnings for guarantor loans apply as they suit a particular set of circumstances. If you're in any doubt that you'll be able to make the monthly repayments then taking out a loan might not be the best idea, otherwise, your family member or friend will be left to pick up the pieces. The same applies if you're considering becoming someone's guarantor – think carefully before committing as there may be cheaper ways to help out such as lending the money yourself or taking out a loan in joint names.
Overall verdict: Buddy Loans have received much praise from their paid out customers and are worth looking into if your circumstances suit a guarantor loan. Saying that, there are cheaper guarantor lenders out there so it might be worth doing your research.
Highlights
Good option for those with bad credit
Online portal for easy management
Approval decision within the hour
No paperwork to complete, 100% online
Your guarantor does not need to be a homeowner
Minimum criteria
Your guarantor must be aged between 18-75
Your guarantor must have a good credit score
Your guarantor must have a minimum income of £1,000pm
Your guarantor must have a UK bank account
Fees
Maximum APR 49.9%
Arrangement fee: £0
Early repayment fee: £0
Late payment fee: £12
About Buddy Loans
Buddy loans are a guarantor lender, offering between £1,000 and £10,000, at a representative APR of 49.9% that can be repaid between one and five years at a fixed monthly rate.
Loans from Buddy are aimed at those who have had problems with their credit and have a less than ideal rating. To ensure that a payment is made each month they will ask you to find a guarantor aged between 18 and 75, who has a UK bank account, decent credit score and earn a minimum of £1,000 per month.
The online application is relatively quick to complete and once submitted they will then call you and your guarantor to complete the application. Once this is done it can take up to 24 hours for the money to show in your account as long as there are no problems.
Company information
Registration number: 08089541
Alexandra Court
FCA registration
Reference No: 718849
Trading names: Buddy Loans, Advancis, incomeadvance.co.uk
Place of business: Alexandra Court Carrs Road Cheadle Cheshire SK8 2JY
Data protection registration
Registration No: Z3239423
Data controller: ADVANCIS LTD
Address: Alexandra Court Carrs Road Cheadle Cheshire SK8 2JY
Apply Now