1st Stop Personal Loans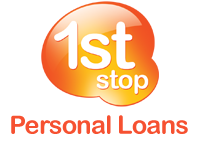 Representative 30.8% APR
Will lend between: £2,000 - £15,000
Over: 24 - 72 Months
Representative example: If you borrow £5,862 over 47 months at a Representative rate of 30.8% APR and an annual interest rate of 13.5% (fixed) you would pay 46 monthly repayments of £203.83 and a final payment of £204.03. The total charge for credit will be £3,718.21 and the total amount payable will be £9,580.21. Acceptance fee £395*
Contact 1st Stop Personal Loans
Are you eligible for 1st Stop Personal Loans?
Check your eligibility before you apply.
Quick 40 second form.
No impact on your credit file.
Free personalised eligibility score.
Check Eligibility
1st Stop Personal Loans customer reviews.
6 reviews
1.0 out of 5 stars
Our review of 1st Stop Personal Loans
1st Stop Personal Loans are available up to £15,000 for new and existing customers. The application process seems quick and it's comforting to know that they complete detailed checks into their customers' credit health before approving a loan.
Reviews across the web are positive and can be attributed mainly to their great customer service. 1st Stop pride themselves on having customer service teams on hand to help you in completing your application, guiding you through it on the phone. It may seem like a chore having to complete the application over the phone, but speaking to an advisor as you complete the application for many provides the peace of mind that you're in safe hands.
Positive mentions also go to their professionalism and speed of payout.
Overall verdict: On the whole 1st Stop seem to be a good choice for those with decent credit history. They have a thorough checking process and seem to present approval results quickly and with great customer service.
Highlights
You may not need to provide any documents, they will inform you when they receive your application
For residents living in England, Scotland and Wales
Minimum criteria
You must have a UK bank account that your wages are paid into
You must have been a UK resident for 3 years or longer
You must be 21 years of age or older to apply
You must have been employed for a minimum of 6 months
You must be a homeowner
Fees
Maximum APR 30.8%
Arrangement fee: £375
Early repayment fee: £0
Late payment fee: £0
1st Stop Personal Loans Customer Question & Answers
Have a question for 1st Stop Personal Loans?
Ask the first question
About 1st Stop Personal Loans
1st Stop Personal Loans Limited is part of The 1st Stop Group offering unsecured Personal Loans to homeowners. Perhaps you're making home improvements, planning a holiday or considering a major purchase. 1st Stop Personal Loans range between £2,000 and £15,000 over periods of 24-72 months with a Representative 28.5%APR (actual rate and repayments will be based on your personal circumstances).
There is an arrangement fee of £395 applicable when you take out a loan with 1st Stop Personal Loans.
Company information
Registration number: 05438114
10 Whitehills Drive, Whitehills Business Park, Blackpool, Lancashire FY4 5LW
FCA registration
Reference No: 723751
Trading names: 1st Stop Home Loans Ltd, 1st Stop Guarantor loans , 1st Stop Secured loans, 1st Stop Unsecured loans
Place of business: 10 Whitehills Business Park, Blackpool, Lancashire, FY4 5LW
Data protection registration
Registration No: ZA006742
Data controller: 1ST STOP OPTIONS LIMITED
Address: 10 Whitehills Business Park, Blackpool, Lancashire, FY4 5LW
Apply Now