Likely Loans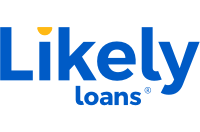 59.9% Representative
Will lend between: £500 - £5,000
Over: 12 - 60 Months
Representative example: If you borrow £2,000.00 over 24 months at a Representative rate of 59.9% APR and an annual interest rate of 59.9% (fixed), you would pay 24 monthly instalments of £131.05. The total charge for credit will be £1,145.20 and the total amount payable will be £3,145.20.
The quickest way to find the best loan.
Compare UK direct lenders that have accepted you.
Fill in one quick and simple form.
Loans for all purposes.
Bad credit history accepted.
Get accepted
Representative 49.9% APR.
Likely Loans customer reviews.
157 reviews
4.6 out of 5 stars
One of the best services I have ever used
21:11 17-07-2017

Choose Wisely
I took out a loan I September 2016. One of the best services I have ever used! Will defo use them again
Daphne
Bad credit loan
15:56 10-06-2018

Smart Money People
Applied with these, submitted some info and later that day money in account. And not had problem since
Lfcno1
Excellent thus far
02:54 16-06-2017

Choose Wisely
Around November 2016 I had an Experian credit score of 966 out of 999, just within the "excellent" range, but having taken out a couple of retail loans and, more recently, a payday loan since then, my score now sits at 820, almost dead-centre in the "fair" range. In order to expedite its recovery, I decided to take out a loan with LL and then pay off all other accounts, thereby consolidating my debt. For those with significant levels of debt however, this probably is not your best option. Being self-employed, some lenders' application processes can become somewhat arduous, and though not entirely automated (a good sign, in my opinion), with LL it was fast and efficient. Money was deposited to my account within hours of approval. While the APR isn't the cheapest you'll find, neither is it what I'd describe as exorbitant for the type of service provided, and it is made very clear - along with how much you'll pay - from the very beginning, and all throughout the application process. No fees are charged either for early resettlement or additional payments either, something I personally plan to take full advantage of as and when I'm able. Nor are there any hidden arrangement costs. Communication has been excellent, terms and conditions are as transparent as any lender I have previous experience of and, unlike many others, LL provide an online account for customers which allows them to easily keep up to date with and manage their payments.
A. Cooper
likley loans are the best for loans
11:29 18-04-2018

Smart Money People
Quick simple application process online, quick response and decisions made with funds deposited the same day you are approved for loan. Affordable monthly payments.
Velora Thomas
Good service
08:49 06-11-2017

Smart Money People
Straight forward money quickly sent to my bank account only fault I has is the top up service i pay on time never miss but only got 4 payments left and still no top up they told me im eligible its it a top up if you have paid the loan off
Neil shield
Excellent loan provider
07:42 26-06-2017

Smart Money People
Applied for a loan last December, funds in bank account same day. Have had to speak to them due to other issues and they' ve been really helpful and professional.
Andrew
great service
19:54 19-06-2017

Smart Money People
So easy to apply online, I had a few questions after a couple of months. The staff were so helpful and friendly
Laura
All round brilliant
18:43 19-06-2017

Smart Money People
From start to finish I find likely loans 100% Always understanding on the phone if I need them Very helpful I would definitely use again
Dee
Excellent easy service
18:42 30-05-2017

Smart Money People
Got the loan quickly and without fuss. Able to settle early easily - customer service was great!
James
Great service
17:57 15-05-2017

Smart Money People
Quick and easy to apply, received money the same day, great service all round
Louisa State
Our review of Likely Loans
Likely Loans are positioned as a lender that can offer loans between £500 to £5,000 to customers with a poor credit history. A major selling point of Likely Loans is that they do not require a guarantor, which is rare among bad credit lenders. Taking this into account, their advertised APR of 59.9% can be considered very reasonable.
Their online application is fairly quick to complete and customers are able to receive a decision about their loan almost instantly. Although their application process is rapid, successful applicants would then receive the funds the next working day, so if you're looking for same day funds then it might be worth shopping around.
The online reviews paint a decent picture of Likely Loans, with customers having positive sentiment towards the lender – this is backed up with our OPTIOSCORE where they have a achieved a score of 79.7 and ranking quite high. On Feefo.com, where Likely Loans achieve an 'excellent' rating, customers have expressed their happiness about the efficient service, simple process and affordable repayments.
Overall verdict: Likely Loans seem to provide a sound service to their customers, with positive reviews online and a simple website. If you have bad credit and don't have a guarantor then Likely Loans are a lender worth considering.
Highlights
Simple online application only takes 5 minutes
No hidden charges or fees
They accept poor credit customers without requiring a guarantor
Instant decision online
You can be a homeowner or tenant
Minimum criteria
Must be a UK citizen
You must be aged 18 or over
You must have some credit history
You will need to have a bank or building society account
No bankruptcy in the last 12 months
You must have an income (salary or pension)
Fees
Maximum APR 99.9%
Arrangement fee: £0
Early repayment fee: £0
Late payment fee: £0
About Likely Loans
Likely Loans offer personal loans between £500 and £5,000 repaid over one to five years at a representative APR of 59.9%. They position their loans towards customers who have bad credit history and provide an instant decision following the online application. Likely Loans do not have any arrangement fees or charges.
The online application takes around five minutes to complete and should the applicant be successful, they can receive the loan the next working day. Customers are able to repay the loan early, either in part or in full, at any point within the loan term. Likely Loans do not charge a fee for this, but instead, apply a level of interest which they will inform you of if you want to take this option.
Company information
Registration number: 07831517
The Poynt North, 45 Wollaton Street, Nottingham, NG1 5FW
FCA registration
Reference No: 707357
Trading names: Likely Loans, Oakbrook Finance Ltd , Marshall Rivers, GuarantorUs Loans
Place of business: The Poynt North, 45 Wollaton Street, Nottingham, NG1 5FW
Data protection registration
Registration No: Z3250811
Data controller: OAKBROOK FINANCE LIMITED
Address: The Poynt North, 45 Wollaton Street, Nottingham, NG1 5FW
Apply Now