QuidCycle Loans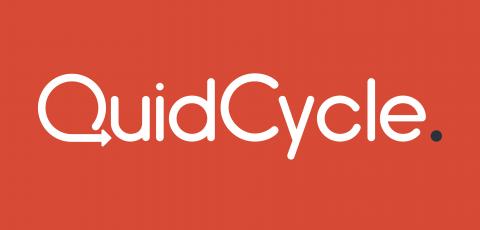 6.2% Representative
Will lend between: £2,500 - £25,000
Over: 12 - 60 Months
Representative example: Representative Example: If you borrow £7,500 over 36 months at a Representative rate of 6.2% APR and an annual interest rate of 6.2% (fixed), you would pay 36 monthly instalments of £301.95. The total charge for credit will be £970.20 and the total amount payable will be £10,870.20.
Are you eligible for QuidCycle Loans?
Check your eligibility before you apply.
Quick 40 second form.
No impact on your credit file.
Free personalised eligibility score.
Check Eligibility
QuidCycle Loans customer reviews.
24 reviews
4.1 out of 5 stars
Satisfying Results!
07:00 18-05-2017

Choose Wisely
I was new to investing in P2P, but the staff were helpful and explained how it works well. Good return on investment and secure. Staff are polite.
Jen Offpista
Our review of QuidCycle Loans
QuidCycle offer a peer-to-peer style of lending, which isn't uncommon in the lender market, however, they have their own ethical practises that set them apart from their competitors. Their loans are solely for the purpose of consolidating debts and refinancing, and their Refinance Plus product aims to educate customers. This programme takes place online and shows the customer hints and tips on how to be better with money and how it can work for them. After the customer has completed this course then they will be eligible for a cash incentive bonus once the loan has been settled.
Like other peer-to-peer lenders there is a fee for setting up the loan, but it is not charged upfront. Instead the fee is paid back alongside the loan with a percentage going into the QuidCycle Provision Fund which reimburses investors if their borrower misses a payment. It would be interesting to see if their incentive system makes a difference on their level of missed payments, but it's comforting to investors that the provision fund is there just in case.
QuidCycle have limited reviews online, however, those that they do have are predominantly positive and they have a rating of 7.3 out of 10 on TrustPilot. Customers who were left dissatisfied said that even though they felt that they fit the criteria, they were still declined and it took too long to match them with a lender nor did they didn't understand the model. The positive reviews are from both borrowers and lenders who appreciate the ethics behind QuidCycle as well as their simple and hassle-free loan process.
Overall verdict: Their unique model is quite interesting and if you're looking to consolidate debts and need help to prevent yourself falling back into the debt trap then QuidCycle could be worth researching. They provide an education and if you complete the online course and keep up with repayments then you could also earn a cash bonus at the end of the loan.
Highlights
Peer-to-peer style lending
Competitive interest rates
Financial education programme for Refinance Plus customers
Range of repayment dates to choose from
Incentives for paying on time rather than missed payment penalties
Minimum criteria
You must be aged over 21
You need to be a UK resident
You need to have a UK bank account
You must have 5 years of UK address history
Fees
Maximum APR 12.3%
Arrangement fee: £0
Early repayment fee: £0
Late payment fee: £0
About QuidCycle Loans
QuidCycle, a trading name of Signia Money Limited, is a peer-to-peer lending service offering personal loans for between £2,500 and £25,000 that can be repaid over terms of one, three or five years. Their representative APR is 6.2%, however, the loan amount, term and your personal circumstances will all affect the rate you're offered after you have completed the online application. QuidCycle specifies their loans are purely for the purpose of debt consolidation and refinancing. Unlike traditional lenders, peer-to-peer style loans aren't financed by a bank or other type of financial institution, instead, the funds are provided by individual investors who in turn receive a return on the money they put forward.
Their flagship product 'Refinance Plus', aims to directly educate customers and enable them to refinance their current debts and free up cash which can then be invested. QuidCycle's Refinance Plus loan closes all existing credit lines like credit cards and store cards, and offers an incentive-based educational programme. This involves a cash bonus if you can demonstrate that your level of credit has not increased at the end of your loan term with QuidCycle.
Loan repayments are completed on a monthly basis by standing order and as soon as the loan has been funded you can select your repayment day to be either 1st, 7th, 15th, 21st, or 28th.
There is a platform fee for using Quidcycle, however, this is not charged upfront and is included in your monthly repayments and included in the total amount repayable. To borrow with Quidcycle you must be over 21 years old, a UK resident and have a UK bank account.
Company information
Registration number: 07401825
Signia Money Ltd, FKS House, 40-44 Newman Street, London. W1T 1QD
FCA registration
Reference No: 655370
Trading names: LeapLending
Place of business: Signia Money, FKS House, 40-44 Newman Street, London W1T 1QD
Data protection registration
Registration No: ZA005679
Data controller: Signia Money Limited
Address: Signia Money, FKS House, 40-44 Newman Street, London W1T 1QD
Apply Now