LendFair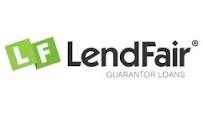 47.9% Representative
Will lend between: £500 - £5,000
Over: 6 - 60 Months
Representative example: Representative Example: If you borrow £2,800 over 36 months at a Representative rate of 47.9% APR and an annual interest rate of 47.9% (fixed), you would pay 36 monthly instalments of £134.45. The total charge for credit will be £2,040.20 and the total amount payable will be £4,840.20.
Are you eligible for LendFair?
Check your eligibility before you apply.
Quick 40 second form.
No impact on your credit file.
Free personalised eligibility score.
Check Eligibility
Our review of LendFair
Lendfair are a guarantor lender based in Harlow, Essex. They offer two different types of loans to their customers with different benefits and criteria to fit a range of different applicants, but both are aimed at customers with poor credit and require a guarantor.
Each of the loans have features that applicants will find attractive – Advantage 29 has one of the most reasonable representative APRs on the guarantor loan market at only 29.9%, and Standard 47 customers are able to use their spouse or partner as their guarantor. As can be expected, customers with worse credit, and guarantors who only have a history considered as 'average' have a high representative APR to pay, so make sure you're able to make the repayments each month.
Lendfair seem to have their customer service nailed, and they have achieved a rating of 99% positive on Feefo.com. Online reviews praise their efficiency, pleasant telephone service and responsibility as a lender. Their OPTIOSCORE on Choose Wisely does reflect the positive consumer sentiment, however, the lack of simplicity and features pulled down their overall score.
If you're considering taking out a guarantor loan then you'll need to make sure you can afford the monthly repayments, otherwise, it will fall to your guarantor. This could ultimately harm their credit score if payments are still missed. If you're thinking about being someone's guarantor, then just consider whether you're happy to have that responsibility. If you do decide that you want to help someone out, there may be cheaper ways to do it including lending the money to them yourself or taking out a loan in joint names.
Overall verdict: It seems like customers are receiving positive experiences with Lendfair, and I like that they offer two different types of guarantor loan that cover their prospective customers. Lendfair are a responsible lender and their Advantage 29 rate is reasonable – all in all, they are worth exploring if you are considering a guarantor loan.
Highlights
Your guarantor does not need to be a homeowner
You can make overpayments with no fees or charges
Monthly repayments are fixed to help with budgeting
Minimum criteria
You will need to have a UK current account
Your guarantor will need to be a UK citizen
Your guarantor must be over 18 years old
Your guarantor needs to be a homeowner or tenant
Fees
Maximum APR 79%
Arrangement fee: £0
Early repayment fee: £0
Late payment fee: £0
About LendFair
Lendfair offer guarantor loans of £500 to £10,000 to be repaid over a term of 6 months to 5 years at a representative APR of 47.9%. They have two loan products – Advantage 29 and Standard 47 which each have their own features, terms and loan amounts. However, for both loans, the guarantor can be a tenant or a homeowner with excellent or average credit scores respectively.
With a Standard 47 loan from Lendfair, customers can apply for £500 to £5,000 at the 47.9% rate and can be paid back over 6 months to five years. To apply for this loan customers will need to be between 18 and 75, be a UK resident with a personal bank account and can have any monthly net income. Standard 47 customers won't be credit scored during the application and can apply even if they have CCJs. Their guarantor will need to be between 20 and 75, must have lived at their current address for one year and can also be the applicant's spouse or partner.
Advantage 29 offers loans from £1,000 to £10,000 over one to five years at a lower representative APR of 29.9%. To apply for this loan customers will need to be aged between 21 and 74, be a UK resident with a personal bank account and must have a net monthly income of £1,000 or over. Advantage 29 customers may be credit scored during the application process, but can't apply if they have any CCJs. Their guarantor will need to be aged between 25 and 73, must have lived at their current address for five years and can't be the applicant's spouse or partner.
The online application takes less than five minutes to complete, and after that Lendfair will need to speak to both the applicant and the guarantor over the phone. Once this portion of the process has been completed, you can sign the documents online and then the funds are transferred.
Company information
Registration number: 07975401
LendFair Ltd, 4 Capital Place, Lovet Road, Harlow, CM19 5AS
FCA registration
Reference No: 723561
Trading names: Lendfair Limited
Place of business: LendFair Ltd, 4 Capital Place, Lovet Road, Harlow, CM19 5AS
Data protection registration
Registration No: Z3156285
Data controller: FCA
Address: LendFair Ltd, 4 Capital Place, Lovet Road, Harlow, CM19 5AS
Apply Now