Published on 5th November 2018
Updated on 27th November 2019
What does Christmas really cost?
According to the Independent on the 2nd of January this year 'around 7.9 million people say they are likely to fall behind with their finances in January after spending too much at Christmas'.
We want to help you avoid falling into the commercial crutch of Christmas this year so we've taken a look at 7 key areas where you could make savvier shopping decisions and save yourself some cash.
The 7 key areas we'll be looking at are:
Christmas Dinner
Decorations
Christmas Drinks
Men's Fragrance
Women's Fragrance
Boys Toys
Girls Toys
First up...
Christmas Dinner
To kick off proceedings let's take a look at the difference between an expensive meal and a cheap one. We've looked at the individual item price for everything you'll need to leave you feeling suitably stuffed on the big day. Comparing equivalent items from Lidl and Waitrose (Waitrose essential items wherever possible). We priced up our two meals to feed 8 people and included a Christmas pud each for some post meat sweats, snaffling.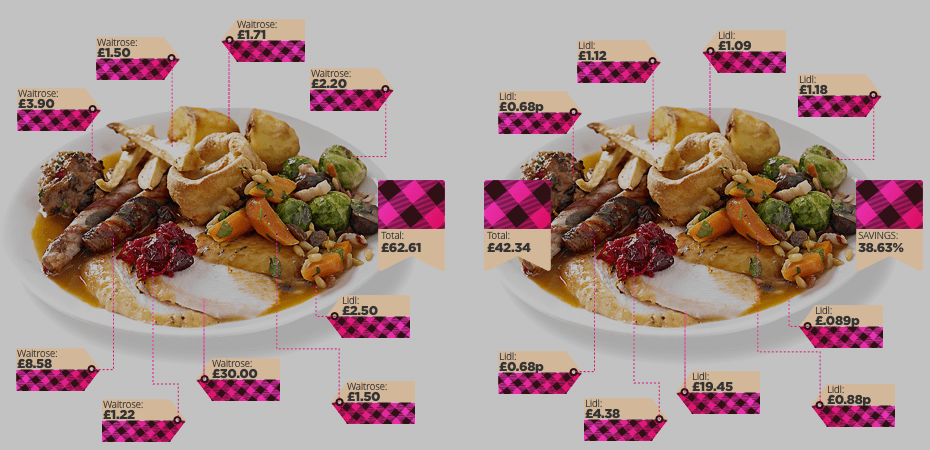 So as you can see there's a huge saving of 38.63% to be had by shopping at Lidl rather than Waitrose for your Christmas dinner. If you do go for the more expensive Waitrose dinner you will be paying a whopping £7.83 per head this year compared to the far more reasonable £5.30 by shopping smart at Lidl's.
---
The same Christmas Dinner cost £20 less in Lidl than it did in Waitrose. That's £42.34 vs £62.61 to be exact.
The reason we started with Christmas Dinner is not only because it's the best bit of the whole day, but because at Christmas time there seems to be a misconception that bigger means better when it comes to dinner. People tend to try and go all out on dinner, thinking the most expensive ingredients will make the day extra special. This isn't the case. In fact, Martin Lewis ran a blind taste test with a group of nurses and guess what happened….that's right, more often than not the cheaper alternatives came out on top (or there was nothing between them). This is again backed up by the mince pie test we carried out at Choose Wisley HQ 2 years ago (exhausting but delicious work). Iceland's own brand mince pies came out on top that day above Marks & Spencers and 6 other big brands. Proving that the logo on the package doesn't count for very much because simply put, the quality of food across Britains supermarkets is largely the same when you look at comparative items, which leaves us thinking…why would anyone want to pay more?
Decorations
Decorating the tree with the kids is a great way to build excitement for the big day, or simply a chance to get into your annual Lawrence Llewelyn-Bowen mindset and turn your living room into the grotto to end all grotto's. Whichever happens in your house there's still an opportunity to shop savvy and save pounds.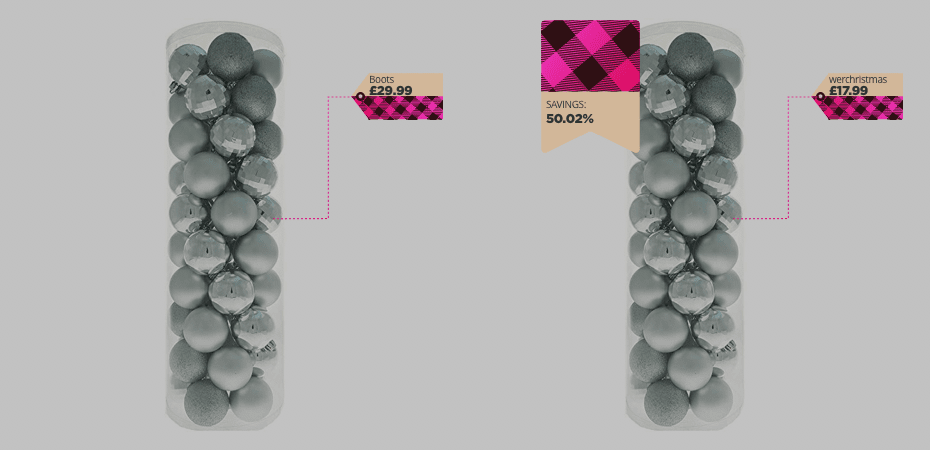 We compared these two sets of 50 shatterproof baubles. After scouring online retailers we found that WeR Christmas on Amazon came out on top. They have good reviews and came out at a reasonable £17.99 per set. That should be more than enough to make your tree the talk of the town. Comparing that to £29.99 at wayfair.co.uk we drew the conclusion that sometimes it pays (literally) to trust lesser-known sellers on large retailers such as Amazon.
In fact, the same set of baubles is that much cheaper on Amazon that you can even add on a prime subscription at £7.99 to receive your baubles tomorrow and still come in at £4 cheaper than Wayfair. Prime subscriptions are exactly that though, a subscription, so if you don't want to pay £7.99 again every month thereafter then remember to cancel.
Christmas Drinks
You've got the office party coming up and two days later all your friends return home for holidays and want to 'catch up' which inevitably means more drinks. How do you get through the next few 'sessions' without leaving you scratching around to fund that last present for mum?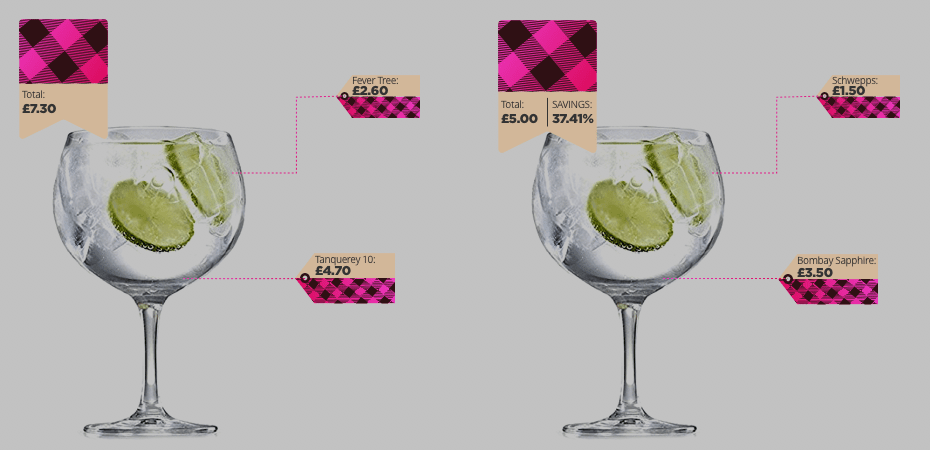 Well, it seems pretty common sense but it's easy to fall into the trap of splashing out in a bar when you've had a few and you're feeling great. But if you can exercise some self-restraint you can still feel 'great' on a budget.
Here are our 3 top tips:
Avoid the back the back bar: We know prices will vary from bar to bar, up and down the country but a general rule of thumb that applies everywhere, back bar and top-shelf spirits will drive up the price of your drink. Go for something from the rail instead. As illustrated above the price of one of our office favourites, the classic, Gin & Tonic. A Bombay Sapphire and Schweppes Tonic would cost you roughly £5 in most bars and we compared that to the price of a Tanqueray 10 and Fever Tree tonic. With an average difference in price of 37.41%, you would be silly not to go for the Bombay as in both cases the outcome is the same; you'll get drunk and tell your boss what you really think about them.
Bottled beers over draught: If beer or cider is your tipple then most times bottles will steer you in the direction of saving money. Most pubs/bars will have offers on a bucket o' bottles at Christmas time so keep your eyes open for the offers.
Say no to rounds: Ok, you won't appear like a 'team player' but rounds are always a bad idea if you've got your bank balance in mind. Especially if you've got a heavy drinker in the group. Someone always shirks a round or gets too plastered and leaves early, leaving you out of pocket.
Men's Fragrance
Whatever your views on gifting are, it's nice to let someone special know you care by placing a little parcel under the tree to unwrap on Christmas morning. We've taken a look at the most common gifts to appear under the tree year after year.
According to MBNA 65% of Brits have purchased fragrance as a gift for their partner with 40% panic buying and 72% saying they enjoy receiving fragrances at Christmas time. So if your special someone is male then look no further than a bottle of Paco Rabbane 1 million. One of Britains top 10 male perfumes.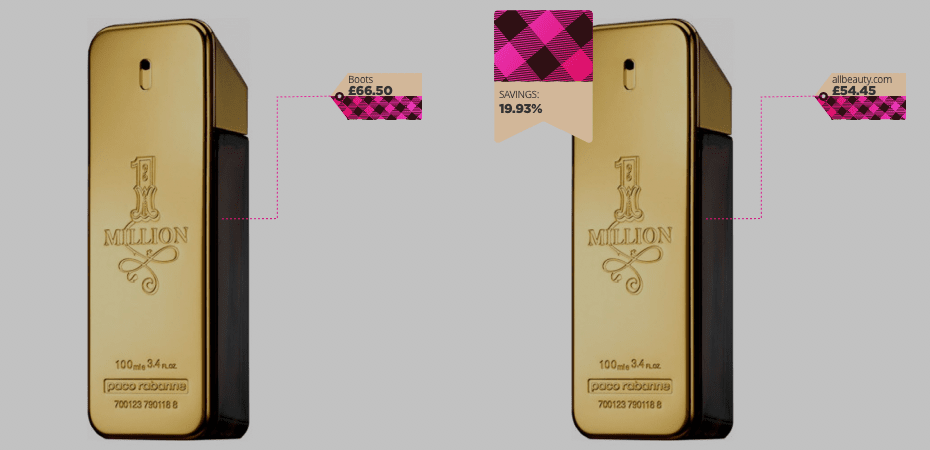 When it comes to fragrance we're firm believers that online beats the high street every time.
If you bought a 100ml bottle of 1 million from Boots on the high street you're looking at parting with £66.50 by staying at home in the warmth and ordering from allbeauty.com you could save the difference of 19.93% at a price of £54.45
Women's Fragrance
And if your special someone is a woman? Marc Jacobs Decadence.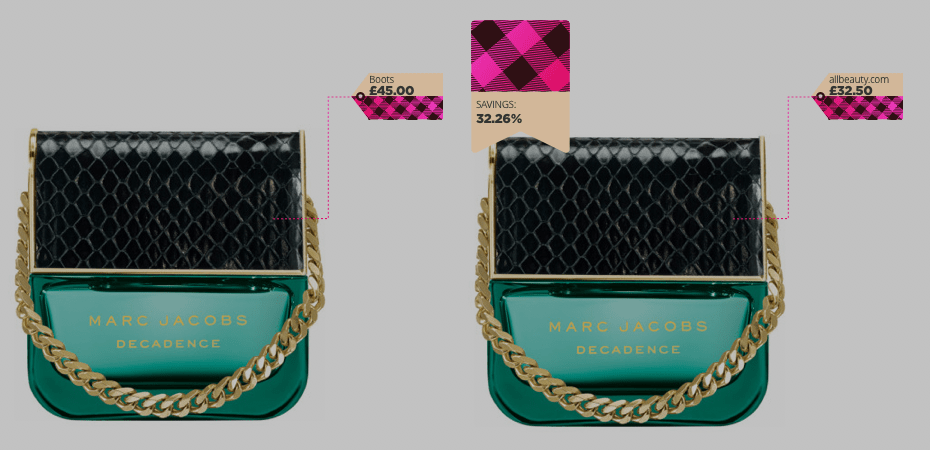 Again our standpoint of online vs high street holds true with women's fragrance. allbeauty.com comes in 32.26% cheaper than Boots. £45.00 to £32.50.
Boys toys
Christmas is all about the kids really so it wouldn't be right if we didn't take a look at some of the savings to be had when shopping for kids toys this Christmas.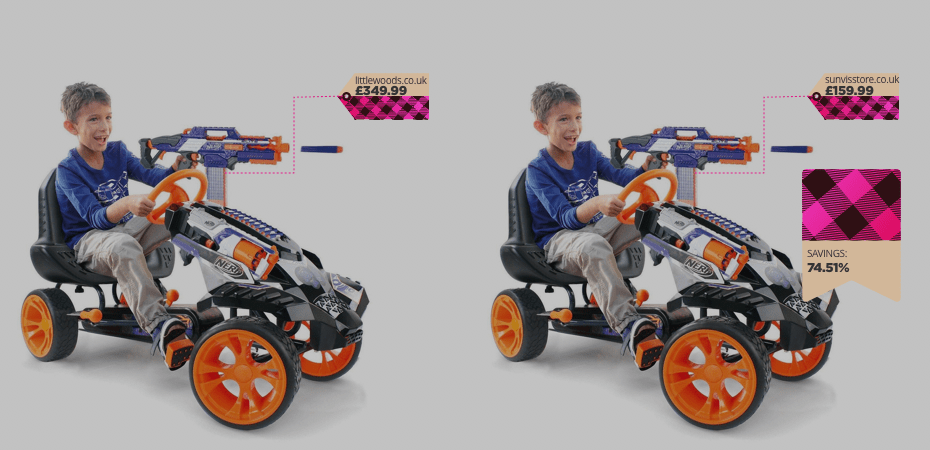 We managed to find our largest saving in the Boys toys category with the Nerf battle racer. Nerf is one of the most popular toys all year round let alone at Xmas and this item is certainly at the upper end of the price range. Should this feature on someone's list to Santa we've got you covered with a humongous 74.51% difference in saving between Littlewoods.co.uk and sunvisstore.co.uk.
While it might be a bit riskier going with the lesser known brand you could save yourself almost as much as £200 for taking the leap of faith. If you are going to take the cheaper route on anything with a lesser known brand, make sure you do your due diligence and check the company reviews as well as the refund & returns policies. If you use a credit card to make the purchase then you'll be protected by the credit card company if something goes wrong.
Girls Toys
Similarly, we tried to find girls presents of equivalent cost to the Nerf racer and the closest we got was this 14" Barbie bike. Again the cheaper reseller is not Littlewoods but an eBay store.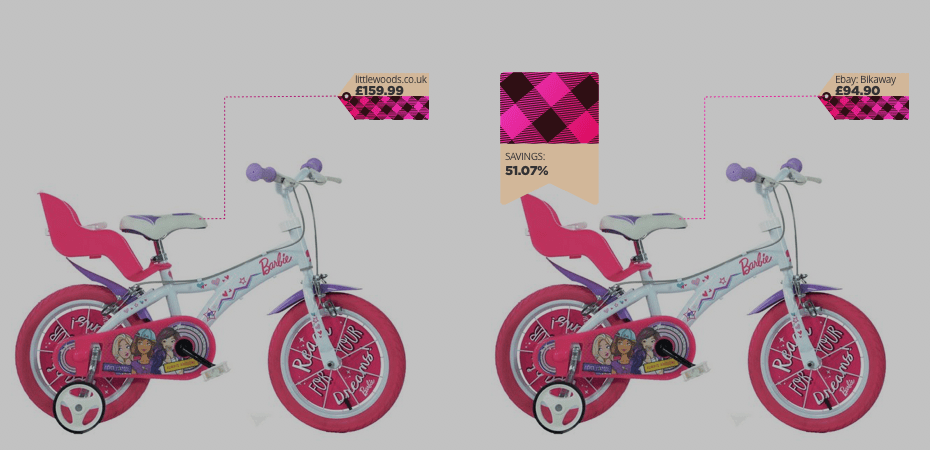 With Littlewoods coming out the more expensive in the majority of cases we would say keep looking and you're bound to find cheaper equivalent products or alternatives on the market. We managed to save 51.07% by extending our search for girls toys to eBay.
Conclusion
According to our research, the percentage difference between the items in each category is:
Christmas Dinner = 38.63%
Decorations = 50.02%
Christmas Drinks =  37.41%
Mens Fragrance 19.93%
Womens Fragrance = 32.26%
Boys Toys = 74.51%
Girls Toys = 51.07%
Resulting in an average percentage difference of 43.40% between our potential expensive Christmas and our cheap(er) Christmas.
Couple that with the fact that Brits are set to spend £850 on average this year if you opt to splash out everywhere it could mean your potential Christmas spend will reach a palm-sweating £1218.90 which is 43.40% more than the cheaper alternative outlined above.
Of course, we've only taken a handful of items and depending on what's on your shopping list, prices will vary. It was never the point of this article to tell you exactly where to find cheaper prices on all of your Christmas shopping but it was intended to illustrate the point that if you shop a little earlier and a little savvier, maybe avoiding some big name brands in favour of less established outlets you could save yourself some money this year and avoid paying for Christmas well into 2019.
Should you need to cover the cost of Christmas, whether that's the average £850 or expensive £1218.90 we urge you to compare your options and Choose Wisely. Getting the wrong loan could wind you up with extra debt that you'll be paying off long into next year.
To see who'll accept your application and get the right loan today…
Get the right loan
Use Choose Wisely's Get Accepted application process to find out who will accept your application before you apply.
Important
Prices fluctuate all the time and we've tried to illustrate our point with as accurate prices at the time of writing as possible, however you may find prices on the items listed in this article vary from what is reported and as such should only be used as a guide on how to save while you shop this Christmas.
Head of Partnerships & Take Control Author at Choose Wisely
Mark joined Choose Wisely in 2015. He continues to work in close contact with the providers, brokers and journalists operating in the world of consumer credit.