Tesco | Low APR credit card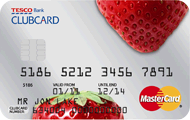 5.9% Representative
Intro purchase rate: 0% for 1 months
Purchase rate: 5.9%
Representative example:
Representative Example: The standard interest rate on purchases is 5.9% p.a (variable), so when borrowing £1,200 the Representative APR will be 5.9% APR (variable).
Tesco | Low APR credit card customer reviews.
140 reviews
2.6 out of 5 stars
Best credit card ever
09:55 04-08-2018

Smart Money People
I use it every day and love it so I recommend it
Wayne
Good for collecting clubcard points
14:22 13-06-2018

Smart Money People
I chose the card so that I can collect clubcard points. I use it to pay for my weekly shopping at Tesco, earn the extra points and then pay it off straight away. Could do with a bigger credit limit, but I have another card for that.
Ghostface
Earn Rewards on the everyday
20:49 07-11-2017

Smart Money People
Do you need a credit card and want it to earn for your spends too? Then get a Tesco clubcard credit card. I always pay my bill in full each month so love to have a credit card that earns me a reward on my spends that is relevant to my everyday life. I can spend these rewards in store on food, or online or with other linked brands. It's a great reward that accumulates and is a lovely bonus at Christmas should you save them up but they can be used all year. Fair credit limits and online statements so paperless. No issues.
Francesca Frags Jones
Easy to use and Clubcard points too!
11:36 27-09-2017

Smart Money People
I signed up for this credit card because it was 0% interest for a long time. A credit card is a credit card usually - there's not much difference but at least if I had to be in debt, I was getting some Clubcard points to spend in Tesco. Additionally, the account was extremely easy to maintain online, which made a difference if I ever wanted to make extra payments or do any other account maintenance.
Clare Gorst
Check the small print
11:55 15-09-2017

Smart Money People
We have had a Tesco Credit Card for years. We tried to claim from them as we believed our purchases were covered for 90 days.... Apparently not the case, so check the small print and if this feature is important to you don't use Tesco.
Scally Wag
Good rates and easy to manage
13:50 14-07-2017

Smart Money People
Love how easy it is to manage the account with the app. Easy and simple to make payments
Rose Warsop
Tesco bank is the worst
08:34 23-06-2017

Smart Money People
Poor experience. Terrible customer advisers. You're better off keeping your money in a shoe box under the bed.
no username
excellent credit card provider
13:25 08-06-2017

Smart Money People
i have been with tesco for there clubcard credit card for several years now and have never had a problem, they even offered me a second card with a 2 year interest free period of 48 months.
nicholas fulton
Clear and practical from the off!
12:42 05-06-2017

Smart Money People
The main reason I would happily recommend Tesco Bank and in particular, the credit card product, is that their online banking management is so easy to use! I now have the app on my phone and really like that it doesn't have unnecessary management options - just the practical ones you need. Very happy Tesco customer!
Rebecca Barnes
Good rates
20:18 30-05-2017

Smart Money People
Would recommend to people who shop regular at Tesco because it helps accumulate Tesco card points when you spend
Emma Brown
Our review of Tesco | Low APR credit card
As you'd expect, the main benefit of the Tesco Low APR Credit Card is indeed the competitive rate of APR. At time of writing this is one of the cheapest on Choose Wisely and is the lowest rate that Tesco offer on any of their cards. As well as the cheap interest rate customers also receive 0% interest on purchases and balance transfers for the first month of the account opening, and the balance transfer fee is also set at 0% for that time as well. You'll be able to transfer up to 95% of your credit limit, but this can't be from another credit card from Tesco Bank.
If you're a frequent Tesco customer then you might enjoy this card for the Clubcard points that you can accrue. For every £4 spent in store you can receive 1 point, and even if you shop elsewhere you can still earn them at a rate of 1 point per £8 spend. These points can then be exchanged for nights out, restaurant vouchers or money off your shopping. This is a nice little added benefit that most of their competitors can't offer.
The OPTIOSCORE for the Tesco Low APR Credit Card is average across all the categories, with nothing standing out as particularly positive. Unfortunately, there are no reviews online that are specific to the Low APR Credit Card, but for their cards overall Tesco Bank have been given a rating of 'poor' by TrustPilot. Although there are customers who are happy with their experience, there does seem to be an issue with customers having to jump through hoops at the application stage and still getting declined.
Overall verdict: If you are an avid collector of Tesco Clubcard points and have a good credit history then the Low APR Credit Card is an affordable option that's worth considering. Not practical if you want to do balance transfers as you'll still have to pay interest.
Highlights
Competitive representative APR
0% on balance transfers and purchases for the first month
Earn Clubcard points as you spend
Decision within a minute
Links up with Apple Pay
Manage the card with the mobile app
Minimum criteria
You must be aged over 18
You need to be a UK resident
You must earn at least £5,000 per year
You must have good credit history
You don't already have more than 1 Tesco Bank credit card
You have not applied for a Tesco Bank credit card within the last month
Fees
Maximum APR %
Arrangement fee: £0
Early repayment fee: £0
Late payment fee: £0
About Tesco | Low APR credit card
The Tesco Low APR Credit Card has a representative APR of 5.9% and customers pay 0% interest on purchases and balance transfers for the first month. Customers also don't have to pay a fee for balance transfers within the first month, but after this time it will increase to 3%. The minimum credit limit is £250 and the maximum credit limit will be decided by Tesco during the application process taking into account previous credit history and personal circumstances.
The application process takes around 10 minutes and you can be told within one minute whether you're accepted for the Tesco Low APR Credit Card. Customers can manage their cards using either the mobile app or by logging in online, your card can also be linked to Apple Pay. When spending with the Low APR Credit Card you can also earn Clubcard points as you spend – it's 1 point for every £4 spend with Tesco and 1 point per £8 if spending elsewhere. These points can then be exchanged for vouchers or treats chosen by the customer.
Company information
Registration number: SC173199
Interpoint Building, 22 Haymarket Yards, Edinburgh EH12 5BH
FCA registration
Reference No: 186022
Trading names: Buy Now Pay Later, Tesco Bank, Tesco Buy Now Pay Later, Tesco Clubcard Credit Card, Tesco Personal Finance Plc
Place of business: Interpoint Building, 22 Haymarket Yards, Edinburgh, Midlothian EH12 5BH
Data protection registration
Registration No: Z4988111
Data controller: TESCO PERSONAL FINANCE PLC
Address: Interpoint Building, 22 Haymarket Yards, Edinburgh, Midlothian EH12 5BH
Apply Now