Tesco | Foundation credit card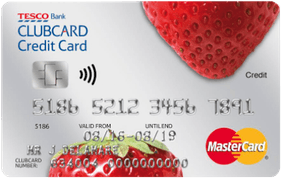 27.5% Representative
Purchase rate: 27.5%
Representative example:
Representative Example: The standard interest rate on purchases is 27.5% p.a. (variable), so when borrowing £1,200 the Representative APR will be 27.5% (variable).
Tesco | Foundation credit card customer reviews.
95 reviews
3.1 out of 5 stars
Easy
19:33 06-11-2018

Smart Money People
Easy to use, website is easy to navigate and to understand, customer service is too class
Allen
No problems
12:55 01-07-2018

Smart Money People
Good online banking. Collect Clubcard points
gden
tesco credit card
12:05 03-06-2018

Smart Money People
i have had a Tesco credit card for just under a year the intrest rates are good and i am always being sent offers. the online site is easy to use and the customer service is good. i would recommend this card
ball
Excellent Customer Service
15:26 30-05-2018

Smart Money People
I have had a very positive experience with Tesco both in relation to credit cards and personal loans. Transactions have always been dealt with quickly and efficiently and the customer service is excellent.
Dan
Tesco clubcard credit card
05:23 19-05-2018

Smart Money People
The application process was straight forward. The app is really easy to use and the clubcard points is a bonus!
Sarah Creed
Benefits
20:37 10-04-2018

Smart Money People
great way of spending and accumulating rewards
Julie Wynne
A good credit card with good customer service
09:13 05-04-2018

Smart Money People
Had this card for a couple of month with no problems. Great customer service and can easily be managed via the Tesco bank app.
07jlord
No charges
21:47 17-01-2018

Smart Money People
Pay in full monthly, to avoid interest charges, and collect Tesco Clubcard points as well. All good.
Lindsey Wells
Not a great start
21:02 01-12-2017

Smart Money People
Applied for the account over 2 weeks ago, still waiting for my card. Lots of confusion & not a great deal of help. Fingers crossed it gets better from here!
Michael Harris
no loyalty
13:50 21-11-2017

Smart Money People
I have had a tesco credit card for 14 years. I have spent over £740,000 on that card. I was 6 days late paying and have been charges £70 interest and £12 late payment fee. They are venal, smug and immoral, and from now On I will never, ever transact with tesco again.
tom ryves
About Tesco | Foundation credit card
The Tesco Foundation Credit Card has a representative APR of 27.5%, launched for those with an unfavourable credit history. The credit card and features are designed to get customers back on track with their finances. The credit limit can be anywhere from £250 to £1,500, depending on your credit status and affordability.
Applying for the Tesco Foundation Credit Card can take 10 minutes but the decision is made within one minute. Tesco allows customers to manage their cards either online by logging in to the website, or by using the mobile app if on the go. The actual Tesco Foundation Credit Card is contactless and you can set up email or text alerts to help you keep your repayments manageable. Monthly repayments start at £25.
Like with all Tesco Credit Cards, you can earn Clubcard points whilst using your Foundation Credit Cards - earn 1 point for every £4 spent with Tesco and 1 point per £8 if spending elsewhere. These points can then be exchanged for vouchers in-store or discounts with their rewards partners such as Hotels.com, Merlin Entertainments, Pizza Express and more.
Company information
Registration number: SC173199
Interpoint Building, 22 Haymarket Yards, Edinburgh EH12 5BH
FCA registration
Reference No: 186022
Trading names: Buy Now Pay Later, Tesco Bank, Tesco Buy Now Pay Later, Tesco Clubcard Credit Card, Tesco Personal Finance Plc
Place of business: Interpoint Building, 22 Haymarket Yards, Edinburgh, Midlothian EH12 5BH
Data protection registration
Registration No: Z4988111
Data controller: TESCO PERSONAL FINANCE PLC
Address: Interpoint Building, 22 Haymarket Yards, Edinburgh, Midlothian EH12 5BH
Apply Now