Tesco | Foundation credit card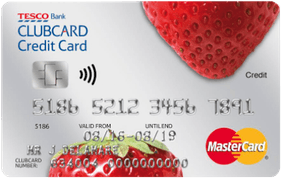 Representative 27.5% APR
Purchase rate: 27.5%
Representative example:
Representative Example: The standard interest rate on purchases is 27.5% p.a. (variable), so when borrowing £1,200 the Representative APR will be 27.5% (variable).
Tesco | Foundation credit card customer reviews.
19 reviews
2.2 out of 5 stars
Highlights
Earn Clubcard points as you spend
Decision within a minute
Manage the card with the mobile app
Manageable monthly repayments from £25
Good option for anyone hoping to improve their credit rating
Free access to select Noddle Premium services for 3 years
Minimum criteria
You must be aged over 18
You need to be a UK resident or British Forces Post Office address
You must earn at least £5,000 per year
You don't already have more than 1 Tesco Bank credit card
You have not applied for a Tesco Bank credit card within the last month
You must not have had any CCJs in the past 18 months
You must not have had an account closed in the past year due to missed repayments.
Fees
Introductory Balance Transfer Fee: £0
Introductory Purchase Rate: 0%
Balance Transfer Rate: 0%
Balance Transfer Fee: £3
Purchase Rate: 27.5%
Fee Amount: £3
Representative APR: 27.5%
About Tesco | Foundation credit card
The Tesco Foundation Credit Card has a representative APR of 27.5%, launched for those with an unfavourable credit history. The credit card and features are designed to get customers back on track with their finances. The credit limit can be anywhere from £250 to £1,500, depending on your credit status and affordability.
Applying for the Tesco Foundation Credit Card can take 10 minutes but the decision is made within one minute. Tesco allows customers to manage their cards either online by logging in to the website, or by using the mobile app if on the go. The actual Tesco Foundation Credit Card is contactless and you can set up email or text alerts to help you keep your repayments manageable. Monthly repayments start at £25.
Like with all Tesco Credit Cards, you can earn Clubcard points whilst using your Foundation Credit Cards - earn 1 point for every £4 spent with Tesco and 1 point per £8 if spending elsewhere. These points can then be exchanged for vouchers in-store or discounts with their rewards partners such as Hotels.com, Merlin Entertainments, Pizza Express and more.
Company information
Registration number: SC173199
2 South Gyle Crescent, Edinburgh, United Kingdom
FCA registration
Reference No: 186022
Trading names: Buy Now Pay Later, Tesco Bank, Tesco Buy Now Pay Later, Tesco Clubcard Credit Card, Tesco Personal Finance Plc
Place of business: 2 South Gyle Crescent, Edinburgh, United Kingdom, EH12 9FQ
Data protection registration
Registration No: Z4988111
Data controller: TESCO PERSONAL FINANCE PLC
Address: 2 South Gyle Crescent, Edinburgh, United Kingdom, EH12 9FQ
Apply Now