Santander | Zero Credit Card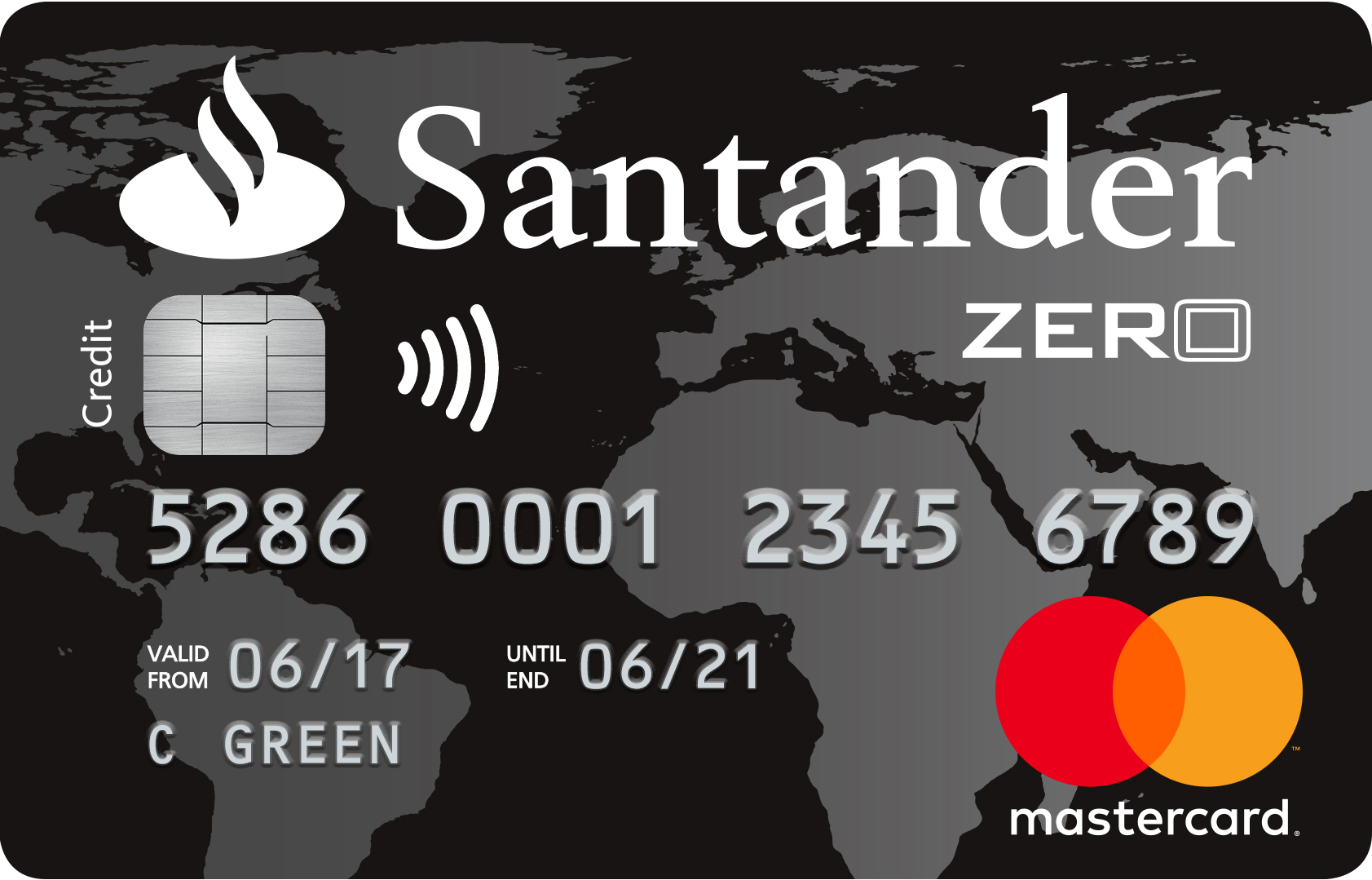 18.9% Representative
Intro purchase rate: 0% for 2 months
Purchase rate: 18.9%
Representative example:
Representative Example: The standard interest rate on purchases is 18.90% p.a. (variable), so when borrowing £1,200 the Representative APR will be 18.9% (variable).
Santander | Zero Credit Card customer reviews.
192 reviews
1.4 out of 5 stars
Our review of Santander | Zero Credit Card
Although the Santander Zero Credit Card has a representative APR that's quite common among its competitors, it stands out from the crowd with its various other financial benefits. If you travel a lot then this card could be a good option for you as you don't pay any fees for foreign transactions made in the local currency. You also won't have to pay a fee for taking cash out anywhere in the world. Also, there is 0% interest on purchases and balance transfers for the first month of opening the card (although you will still need to pay the balance transfer fee of 3%).
Customers of the Santander Zero Credit Card can also earn cashback on purchases made in major retailers. Initially once the Retailer Offer has been switched on using mobile or online banking, you'll be given five offers all enabling up to 25% cashback. These are chosen for you by Santander but as they are with well-known retailers you should be able to reap some benefit from them. Following this welcome offer you can then earn up to 15% cashback at those selected retailers when you use your Santander Zero Credit Card.
Although there are no online reviews that are specific to the Zero Credit Card, we can still take a look at Santander's reviews which will cover the other financial products and services they offer. Santander have achieved a disappointing rating of 'bad' on TrustPilot. Drawn out processes, high charges and getting declined if already a customer are some of the things that have left customers unhappy.
Overall verdict: This card would be great if you spend a lot of time abroad as you'll benefit from the fee-free cash withdrawals and no fee on foreign currency purchases. If you like the idea of having a card with Santander and have good credit, but don't travel much then it might be worth taking a look at their other cards which might have benefits more relevant to your needs.
Highlights
No monthly or annual fee
No fee for cash withdrawals anywhere in the world
No fee for foreign purchases when made in local currency
Welcome cashback offers at major retailers
Manage the loan using online or mobile banking
Link up with Apple Pay
Minimum criteria
You must be aged over 18
You need to be a UK resident
You must earn at least £7,500 or more per year
You must have good credit
No bankruptcy, CCJs or IVAs within the last 6 years
Fees
Maximum APR %
Arrangement fee: £0
Early repayment fee: £0
Late payment fee: £0
About Santander | Zero Credit Card
The Santander Zero Credit Card has a representative APR of 18.9% and a minimum credit limit of £500. The maximum credit limit is determined by Santander during each application and takes into account personal circumstances and previous credit history. There is no monthly fee for this card, and customers aren't charged for cash withdrawals anywhere in the world, or on purchases made abroad.
Holders of the Santander Zero Credit Card are also granted five welcome cashback offers and can earn between 5% and 25% on purchases at a variety of major retailers. To claim this benefit, customers must switch on Retailer Offers using either online or mobile banking. There are other ways that these portals can also help customers to manage their Zero Credit Card such as viewing their credit limit and balance, changing personal details and making payments to the card. You can order up to three additional cards on the same account for partners or family members and even link it up to your iPhone 6 or Apple Watch to use Apple Pay.
Company information
Registration number: 02294747
2 Triton Square, Regent's Place, London NW1 3AN
FCA registration
Reference No: 106054
Trading names: Santander, Cahoot, Santander Corporate and Commercial Bank (SCCB), Santander Global Corporate Banking
Place of business: 2 Triton Square, Regent's Place, London NW1 3AN
Data protection registration
Registration No: Z8737433
Data controller: Santander UK PLC
Address: 2 Triton Square, Regent's Place, London NW1 3AN
Apply Now