Post Office Money® | Matched credit card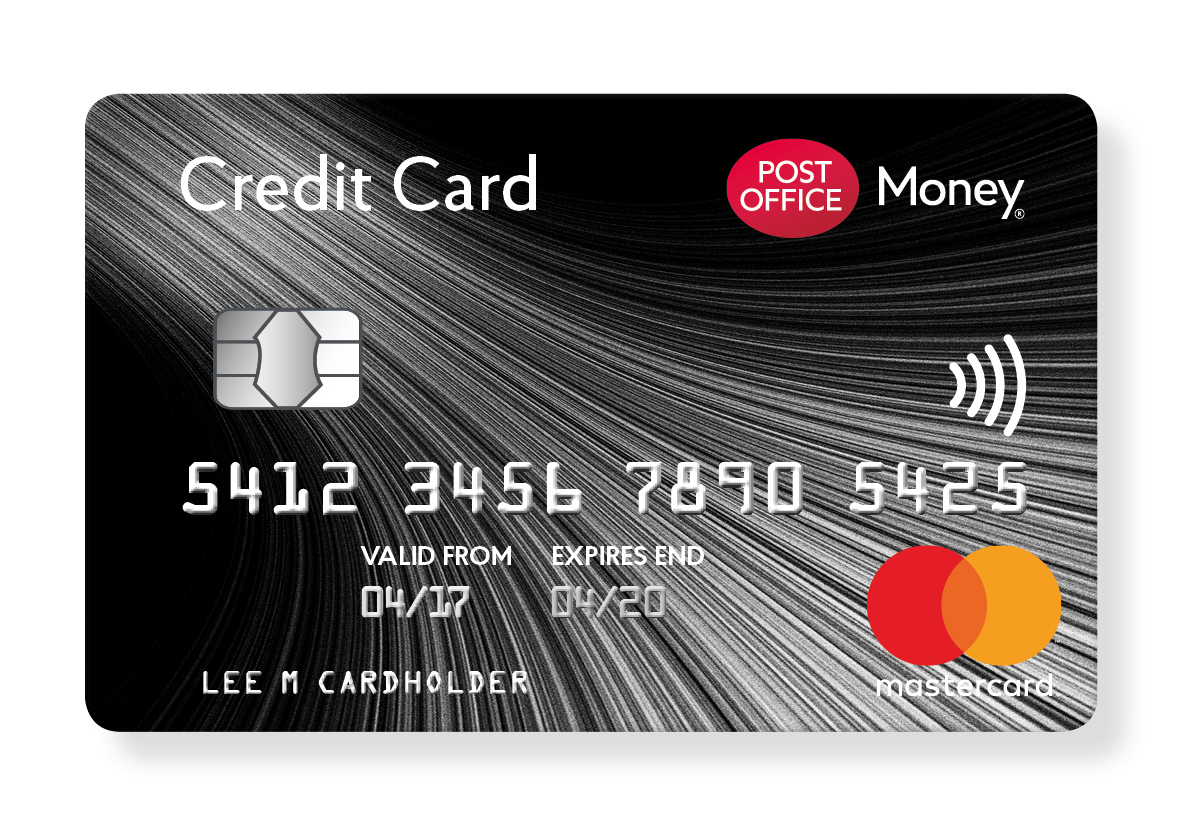 19.9% Representative
Intro purchase rate: 0% for 25 months
Purchase rate: 19.9%
Representative example:
Representative Example: The standard interest rate on purchases is 19.9% p.a. (variable), so when borrowing £1,200 the Representative APR will be 19.9% (variable).
Post Office Money® | Matched credit card customer reviews.
53 reviews
2.2 out of 5 stars
rubbish
12:21 19-11-2018

Smart Money People
I Applied for post office credit card. the eligibility checker said i was most likely to be accepted so made hard application, and the answer was vague. Ddnt get turned down but was asked to provide copy of photo i.d and a bill, so i sent that to them, and a couple of weeks later was then turned down? Even though according to experian and equifax I had a 90 per cent chance of getting the card and my credit rating is above average. But If they are going to turn you down, why not right away rather than all this send passport copy and a bill , which are important documents. AND it has brought my credit rating down, by applying for it as well. So i will not forget that. And in future rich or poor i will not touch the post office finances with a barge poll, and urge people to avoid them
g cameron
Sneaky fees
13:10 15-11-2018

Smart Money People
If you go over your limit even slightly, you'll get charged £12 twice. Once for the month in which you went over, and once for the next month (since you won't be told you're over until after the deadline to miss the next fee).
C
Appalling!!!
15:37 09-11-2018

Smart Money People
I have received a man arrears letter every month despite my husband and I putting a substantial amount in every month. I set up a direct debit with them only to find money wasn't being taken and when I eventually set up my standard order the money kept being returned. I am exasperated and I will never ever recommend post office credit card to anyone!!!! Once I have settled my debt I will cancel this and never return. Appalling!!!
Jillian Anne
Simply awful customer service!
17:36 24-10-2018

Smart Money People
They blocked my account for not remembering my online password despite me doing a password recovery. Customer services refuse to answer the phone and play awful music down the phone. A truly horrific experience. Based on their non existent customer service, I certainly would not recommend them to anyone.
Neil
On hold endlessly for confusing information and no answers
13:32 15-10-2018

Smart Money People
I've had this card for a while and use it for purchases abroad and joint purchases. Don't remember particular problems before , (but don't remember last time I used it either..) Yesterday I went to buy a new item online, got the dreaded Mastercard securecode page, filled in all my details, was asked to CREATE a passcode... authorisation then failed. This 3 times over. I gave up and used my Santander card (also Mastercard), verified the purchase with OTP, worked seamlessly, thanks Santander! I was keen to know why I had such a problem with the post office card, so I rang them today. First time I gave up after 12 minutes on hold, second time I decided to stick it out, and after 13 minutes of their blaring and irritating hold music (at 2.15pm so should be a quiet time...?) I got Maeve, who didn't seem to understand what I was saying and told me repeatedly that I had entered the wrong passcode while I told her repeatedly how I had been ASKED TO SET UP a passcode during the transaction. She then indicated that my card had been locked.. and said I could go through the set up a passcode process again the next time I purchase. Frankly I'm not too keen to go through that entire rigmarole again so I asked if I can set up the password directly with the post office - she said no, you need to set it up on the mastercard securecode site, which will be the first thing that comes up in a google search. It's not - instead I get a whole bunch of infomation pages touting securecode, none of which allow me to do anything meaningful, and I am not one step forward. On the basis of this, I may just avoid using the post office card again, it's not worth the hassle, the massive amount of time waiting on hold to speak to someone who doesn't seem to know what's going on, and the likelihood of the whole thing being repeated next time I try to use the card. Marks for ease of use - MINUS 10!
Lottie
Rip-off Card. Charges extra credit interest months after the transaction.
16:55 10-10-2018

Smart Money People
Also poor customer service (see above) and you will wait forever for an agent on the phone. I pay off my PO platinum card in full each month but they have a sneaky way to charge interest on cash withdrawals in the month after the full amount and all charges are paid. I will be cancelling my card as soon as this is sorted out.
Chris Gardner
Horrifically slow and bad service undoes the 0% overseas rate
17:33 05-10-2018

Smart Money People
Like the 0% charge on overseas..but then they proactively blocked my overseas purchase because it seemed suspicious (which is odd given they market this for overseas purchases). This then dragged me into their customer service which never answered my call. So ended up having to use my other card to get the transaction done which defeated the whole purpose of the 0 fee on overseas. This has happened multiple times.
Londonshopper
customer service, still waiting, on hold, 32 mins as of now
15:27 03-10-2018

Smart Money People
card itself is good for purchases abroad but getting to customer service is a night mare
doctor
Poor application process
16:12 17-08-2018

Smart Money People
Went online to apply for one of there credit cards used the pre check to see if I would be approved and it came back saying that I was 9.5 out of 10 of being accepted so I carried on with the application and submitted it to then be told we need to see your last 3 months bank statements to see your income before i can issue you a card I have never had this before with any other credit cards so I go to the bank and get them and post them as there's no other way as they are still running in the stone age ! Then I get a letter about 10 days later saying the bank statements that I sent were no good as only my surname is on them so what a waste of my time now i have gone and got a search on my credit file for nothing if you try ringing you will be waiting a long time I just gave up. Went to another credit card company gave me an £1500 limit straight away and 0% Balance transfer for 36 months.
David
a right cowboy outfit
07:51 17-07-2018

Smart Money People
Post office been with them over 20 years had no defaults and paid up on time if not before time , asked to up credit limit and was declined no reason give , I suspect its because I have paid up all the time and they are not making any money out me , a credit card is needed for most car hire abroad of which i needed it for , as prepay credit cards , debit cards are not taken , so the post office has now ruined the propect of holidays abroad with there petty minded ways , I will now be canceling the card and going to a reputable banking establishment than using a crooked firm as the post office , and boycock the post office completly rip podt office
mitac
Our review of Post Office Money® | Matched credit card
The Post Office Money Matched Credit Card does come with a representative APR which is fairly standard across competitors, but there are also a number of extra benefits that customers can take advantage of. The 0% applied to balance transfers for 25 months, as well as purchases for 25 months gives customers a chance to pay towards existing debts they may have transferred as well as keeping monthly payments to a minimum.
The management facilities for the Money Matched Credit Card are some of the best out there, and customers have complete control of their account, right down to being able to view and change their PIN number – something which is usually done over the phone, in writing or in branch for the traditional banks.
One thing to mention is that the Post Office has been named as a recommended credit card provider for Which?, and this was awarded in April of 2016. Although there are no online reviews specific to the money Matched Credit Card, the Post Office as a whole has a TrustPilot rating of 'bad', however, it does need to be kept in mind that this is for everything the Post Office provide, including their mail services. Looking in more detail at their financial-based reviews the customers seem to be particularly unhappy with the disorganisation, rude customer service team and being charged when it was not their fault.
Overall verdict: Although the Post Office might be thought of as just letters and parcels, they do actually have quite a wide product offering. They're a trusted name and the Money Matched Credit Card has a decent representative APR and good financial benefits. A great option if you want complete visibility and control over your card.
Highlights
0% interest on purchases for 25 months
0% on balance transfers for 25 months (transfer within 3 months of your account opening)
Buy travel money with no cash fee
Online shopping security
Manage account with mobile or tablet with the app
Minimum criteria
You must be aged 18 or over
You need to be a UK resident
You must have a current bank or building society account
You can't have a Post Office credit card
You must be employed, retired or a homemaker
Your annual income needs to be over £8,000
No CCJs
Fees
Maximum APR %
Arrangement fee: £0
Early repayment fee: £0
Late payment fee: £0
About Post Office Money® | Matched credit card
The Post Office Money Matched Credit Card has a representative APR of 19.9% and a minimum credit limit of £1,000. The maximum limit that can be offered is decided by the Post Office and will take into account the applicant's previous credit history and personal circumstances. Matched Credit Card holders can benefit from 0% on purchases for the first 25 months, as well as 0% on balance transfers for 25 months.To be eligible for these you will need to make a purchase or balance transfer within the first three months of opening the account.
There is no annual fee for the Matched Credit Card, but there is a fee of 2.89% on balance transfers. If you go over your credit limit or don't pay on time, not only will you lose the privilege of the special 0% rates, but you'll also incur charges of £12 each instance.
The account for the Matched Credit Card, can be managed over the phone, online or using the dedicated free Post Office mobile app. If you are going to manage your card online then you'll be able to view your current balance, credit limit, payment due dates, make a payment, make a balance transfer and change your PIN.
Company information
Registration number: 2154540
Finsbury Dials, 20 Finsbury Street, London, EC2Y 9AQ
FCA registration
Reference No: 409080
Trading names: Post Office Limited, Post Office Money
Place of business: Finsbury Dials, 20 Finsbury Street, London EC2Y 9AQ
Data protection registration
Registration No: Z4866081
Data controller: POST OFFICE LTD
Address: Finsbury Dials, 20 Finsbury Street, London EC2Y 9AQ
Apply Now