Ocean Finance | Bad Credit Credit Card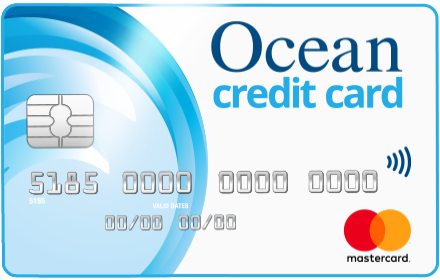 Representative 34.9% APR
Purchase rate: 34.94%
Representative example:
Representative Example: The standard interest rate on purchases is 34.94% p.a (variable), so when borrowing £1,200 the Representative APR will be 34.9% variable.
Ocean Finance | Bad Credit Credit Card customer reviews.
314 reviews
4.2 out of 5 stars
Highlights
You don't need to have a good credit history
Credit limit between £200 and £1500
Payment reminders via text
Online account control
Eligibility checker without harming credit score
No annual fee
Minimum criteria
You must be over 18 to apply
You must be a current UK resident
Fees
Introductory Balance Transfer Rate: 0%
Introductory Balance Transfer Fee: £0
Introductory Purchase Rate: 0%
Balance Transfer Rate: 34.9%
Balance Transfer Fee: £3
Purchase Rate: 34.94%
Fee Amount: £3
Representative APR: 34.9%
About Ocean Finance | Bad Credit Credit Card
The Ocean Credit Card is issued by Capital One (Europe) plc, Ocean Finance is a trading style of Intelligent Lending Limited. The product is aimed at customers who struggle to get accepted for a credit card, like those new to the UK, on a low income, self-employed or with a poor credit history.
The Ocean credit card has an initial limit from £200 to £1,500. The amount you receive will depend on your financial situation and credit history. The representative APR is 34.9% with no annual fee but you will be charged £12 if you make a late repayment or go over your limit.
The card comes with limited rewards but does benefit from free reminder text messages to help customers stay on top of their account and the QuickCheck service to see if you're eligible for a credit card without harming your credit score.
Company information
Registration number: 04291279
Think Park Mosley Road Trafford Park Manchester M17 1FQ
FCA registration
Reference No: 310069
Trading names: Ocean Finance
Place of business: Think Park Mosley Road, Trafford Park, Manchester M17 1FQ
Data protection registration
Registration No: Z7306888
Data controller: Intelligent Lending Limited
Address: Think Park Mosley Road, Trafford Park, Manchester M17 1FQ
Apply Now