Natwest | Student credit card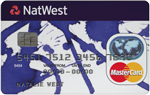 18.9% Representative
Intro purchase rate: 0% for 2 months
Purchase rate: 18.9%
Representative example:
Representative Example: The standard interest rate on purchases is 18.95% p.a. (variable), so when borrowing £500 the Representative APR will be 18.9% (variable).
Natwest | Student credit card customer reviews.
453 reviews
1.5 out of 5 stars
Our review of Natwest | Student credit card
The NatWest Student Credit Card is designed for those in higher education that may be new to credit. Its maximum limit of £500 will allow users to learn how to borrow responsibly and manage repayments without the risk of racking up large debts. Saying this, borrowing on a credit card should be a last resort for students and not just an extra source of funds for the student union bar. If you miss your repayments you'll be subject to a charge of £12, so if you're thinking of applying for this card be sure you can afford it, and stay on top of the repayments.
On the NatWest website, customers can check their likelihood of acceptance by using the eligibility checker. This only takes a few minutes but can give you an idea of whether you would be accepted at a later date. One thing to watch out for is that this form does submit a soft credit search which will leave a footprint on your credit file for other providers to see.
The NatWest Student Credit Card has a lower than average OPTIOSCORE which has been brought down in terms of simplicity and features. Although there are no online reviews specific to the Student Credit Card, TrustPilot have given NatWest a rating of 'bad' overall. Some customers are unhappy with changing branch opening times, problems with online banking and poor customer service.
Overall verdict: If you're in education and looking to build a foundation for your future credit then the NatWest Student Credit Card could be one to consider. The representative APR isn't too expensive and you'll be able to manage the account online or on your mobile.
Highlights
£500 credit limit
Up to 56 days' interest free on purchases
Email and text reminders
Online and mobile management of the card
Use the card anywhere with the MasterCard logo
Minimum criteria
You must be aged 18 or over
You need to be a UK resident
You must have a NatWest Student Current Account
Fees
Maximum APR %
Arrangement fee: £0
Early repayment fee: £0
Late payment fee: £0
About Natwest | Student credit card
The NatWest Student Credit Card is designed for those in higher education and has a representative APR of 18.9%. The maximum credit limit is £500, however this depends on the applicant's personal circumstances and previous credit history, so the limit offered could be lower. To apply for a NatWest Student Credit Card you will need to be an existing NatWest Student Current Account holder.
NatWest allow their Student Credit Card holders to manage their card and account using a dedicated Credit Card Online Services platform, online or via the NatWest mobile banking app. NatWest also send email and text reminders when the payment is due to try and prevent customers from missing their date. Any missed repayments will result in you being charged £12.
You'll also be able to use your NatWest Student Credit Card if you're abroad, as long as you can see the MasterCard logo. There will also be a fee of 2.75% for transactions that don't take place in sterling.
Company information
Registration number: 929027
Customer Relations, Freepost Nat12685, Borehamwood, Hertfordshire, WD6 1BR
FCA registration
Reference No: 121878
Trading names: National Westminster Bank Plc, Natwest Markets, Williams & Glyn
Place of business: 135 Bishopsgate, London EC2M 3UR
Data protection registration
Registration No: Z4936258
Data controller: National Westminster Bank PLC
Address: 135 Bishopsgate, London EC2M 3UR
Apply Now