Marks & Spencer | Transfer Plus credit card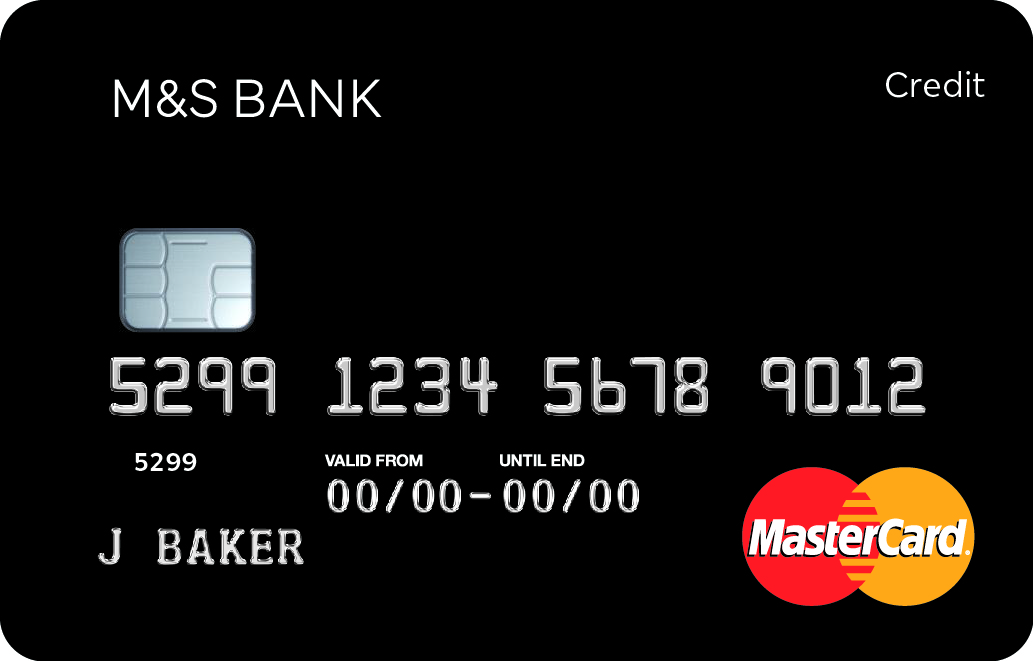 18.9% Representative
Intro purchase rate: 0% for 6 months
Purchase rate: 18.9%
Representative example:
Representative Example: The standard interest rate on purchases is 18.9% p.a. (variable), so when borrowing £1,200 the Representative APR will be 18.9% (variable).
Marks & Spencer | Transfer Plus credit card customer reviews.
41 reviews
3.0 out of 5 stars
Great way to get £25 M&S vouchers free
12:44 04-04-2018

Smart Money People
Use the card once and get £25.00 M&S vouchers free
Emma
0% purchase credit card for 25 months
23:29 29-01-2018

Smart Money People
I was in a strange position of being unemployed yet having a decent income through alimony. Most places I applied for online, rejected my application because "computer says no!". They were the only ones who bothered contacting me to confirm my source of income and approved the application. And the product is brilliant :)
misssharma
credit card de-activated without informing customer
17:45 28-01-2018

Smart Money People
Had the m&s bank credit card for a couple of year now, not sure if it's me but chip keep failing on me about 3 times since getting the card . This time when reported to M&S bank credit card department. Was told my card been de-activated by them due to them sending me a replacement card out as the old one is expiring in a couple of months time but no information sent to me to inform me that would be the case. Just think you going to do shopping and only card you got is M&S credit card and get declined, what an embarrassment having to leave without the shopping. When asked why it was de-activated while the replacement card is sent out, told basically it is their policy...even if it is their policy ...shouldn't M&S informed their customer that a new card is being sent out and they will not be able to use the card?????? so be warn, if you don't want all this problem of card failure and card being de-activated when you have not done anything wrong and them sending out replacement card due to old one is coming to expire.>>>>AND YOU DO NOT GET ANY NOTIFICATION THAT THEY HAVE DE_ACTIVATED YOUR CARD. p.s you got the impression that whoever was at the other end of the phone was not even paying any attention to you when you try to make your point on the phone to me. pps Will be cancelling the card very soon as I can not justify all the problem I have encountered with M&S customer through the time I been with them which I have not listed out...one thing for certain THEY ARE NOT A LISTERNING BANK?/CUSTOMER SERVICE
Case Yeung
useless
13:52 18-12-2017

Smart Money People
I applied for a M&S credit card , very quick acceptance letter . I then received a pin number , card to arrive shortly . Another letter with another pin number arrived 2 days later , still no card . Spoke on telephone , card would arrive shortly , 2 weeks later still no card I have given up.
Anonymous
Poor Customer Service
12:36 06-12-2017

Smart Money People
Well applied for the M & S Credit Card to take advantage of the free vouchers and as I dont get any incentives with my current credit card and I do shop at M & S weekly I thought this would be ideal...... how wrong! I applied on line and within a few days advised I had been "approved" sent back the t's & c's and completed the direct debit form. nothing received apart from another form asking me to sign and return which I did...... After calling customer services today almost 2 months since I was "approved" to request where my card was, I have been advised they received all my signed paperwork on 28th October.... its now 6th December and no card and they "do not know when" I will receive my card, so Im thinking ok I will cancel this as its pretty useless. They have my bank details my info and I dont have a card so trying to cancel is soooo hard. Ive now been on hold some 15 minutes waiting to speak to the "applications" department as the guy in customer services can only help me if I want a new card!!!! YES I DID WANT A NEW CARD BUT NOT NOW as I have no idea when it will turn up. Ive asked to have confirmation that my application is cancelled buy yes you guessed it the guy in applicants cant do that and they wont send out a letter or email. Im now away for approx 4 weeks and dont want a card now anyway. Finally spoken to customer services who have confirmed documents received 28th October and realistically if i want a card my application has now expired so would need to apply again and lose out on the offer of ££££. Very helpful person at customer services saying she would try and see if i can still get the card but having worked in finance i know the card would only be issued within 28 days of the credit check.... heyho M & S - hopefully my card is cancelled and I will receive a letter confirming as such..... very sorry for the rant M & S you are usually so good!!
Lynn
What customer service??
00:36 18-11-2017

Smart Money People
Very poor customer service! Trying to charge interest when the error is between them and my bank..... made payment they bounced it back then charge me full interest as if i hadnt made any payment. Fact was i paid 2850 and paid a 200 figure from my other account.... (it only needed £180 to pay off due to a credit) but they want ro charge full interest on £3k.... until my statement came through.... so less than 10 days £118. . They refused the good will and im going to tackle my bank tomorrow.... will be cancelling my m&s card now.
Victoria
Clear bills
07:32 23-06-2017

Smart Money People
Good clear bills, easy to pay. Apr could be better.
Hannah Jowett
THE BEST BANK
16:05 11-06-2017

Smart Money People
EFFICIENT, HELPFUL AND ALWAYS THERE TO HELP
Anonymous
good product horrid website
06:01 31-05-2017

Smart Money People
The website and the portal to administer the credit card is lacking. There is no way to actually administer the account as all the features end up firing off a contact form. So changing the direct debit amount is pointlessly difficult.
James Maclean
Nice company you to deal with
16:44 30-05-2017

Smart Money People
Always very happy dealing with [email protected]
maureen westwood
Our review of
Marks and Spencer are a well-established British institution and their M&S Bank launched back in 2012. This service was based on M&S Money, which itself had a 30 year history. There are branches in the main Marks and Spencer stores, open whenever the stores are open. This keeps personal customer service in easy reach of all consumers. M&S Bank offers many different financial products, from loans to current accounts. This review is about their Transfer Plus credit card.
The Transfer Plus credit card has an introductory rate of 0% for 32 months on balance transfers. They also have a low fee of 0.99% on money that is transferred across. In a crowded market, M&S Bank offers some great extra benefits to make their card an interesting option. You'll have expected the standard perk of earning points when you shop in any store, not just M&S. However, there is another credit card available from M&S Bank, the Shopping Plus, which is a better deal if you're using the card for a large purchase. With the Transfer Plus card, you can also save on M&S travel money and earn a bonus points voucher for shopping at the store.
People are generally very positive about the Transfer Plus credit card, which has a score of 4/5 at the time of writing. However, some customers have had problems with the account rewards system. If you're taking out this card for the 0% introductory offer, you will want to always make at least the minimum payment each month, if not you'll negatively impact your credit file and the introductory period will come to an end. You should consider paying off the full balance before the end of the introductory period, to avoid being charged interest.
My Verdict: Marks and Spencer are a reliable brand and this product is particularly popular with consumers. The Shopping Plus credit card is a good deal if you regularly shop at M&S, as you will earn more points and be able to get cheaper travel money.
Highlights
0% on balance transfers for 32 months
0% interest on purchases for 6 months
Earn M&S points as you shop
55 days' interest-free credit if you pay the balance in full and on time each month
One additional cardholder over 18
Minimum criteria
You must be over 18
You must be a UK resident with 3 years' address history
You must have a valid bank or building society account
Not available if you've had an M&S Bank credit card in past 12 months
Fees
Maximum APR %
Arrangement fee: £0
Early repayment fee: £0
Late payment fee: £0
About Marks & Spencer | Transfer Plus credit card
The Marks & Spencer Transfer Plus credit card offers 0% interest on balance transfers for 32 months from opening the account, and 0% interest on shopping for the first 6 months. If you already have an M&S loyalty card, it also offers points for this while you spend.
Company information
Registration number: 01772585
Kings Meadow, Chester Business Park, Chester, Cheshire, CH99 9FB
FCA registration
Reference No: 151427
Trading names: Marks & Spencer Financial Services PLC, M & S Bank
Place of business: Kings Meadow, Chester Business Park, Chester, Cheshire CH99 9FB
Data protection registration
Registration No: Z7484152
Data controller: Marks & Spencer Financial Services PLC
Address: Kings Meadow, Chester Business Park, Chester, Cheshire CH99 9FB
Apply Now