Barclaycard | Initial credit card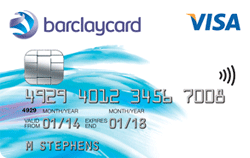 34.9% Representative
Intro purchase rate: 0% for 3 months
Purchase rate: 34.9%
Representative example:
Representative Example: The standard interest rate on purchases is 34.9% p.a (variable) with a representative 34.9% APR variable so when borrowing £1,200 the Representative APR will be 34.9% (variable).
No reviews for Barclaycard | Initial credit card
Highlights
Suitable for those with a limited credit history
0% on purchases for 3 months
Pre-application eligibility checker
Manage the card through the Barclays mobile app
Contactless card payments
Minimum criteria
You need to be over 18 to apply
You must earn over £3,000 a year
You must not have more than one County Court Judgement
You must have lived at your current address for at least three months
You must have not recently missed a bill payment
Fees
Maximum APR %
Arrangement fee: £0
Early repayment fee: £0
Late payment fee: £0
About Barclaycard | Initial credit card
This credit card is aimed at customers who are looking to improve their credit score through making repayments on time and not exceeding their credit limit. Barclays is one of the only mainstream banks to offer a credit-building credit card, and also offers 0% interest on purchases for the first 3 months after opening the card.
You can also check if you're likely to be eligible before you apply, without affecting your credit score. Credit limits of between £150 and £1,200 can be offered to successful applicants.
Company information
Registration number: 01026167
1 Churchill Place, London E14 5HP
FCA registration
Reference No: 122702
Trading names: Barclaycard, Woolwich, Standard Life
Place of business: 1 Churchill Place, London E14 5HP
Data protection registration
Registration No: Z5813704
Data controller: BARCLAYS BANK PLC
Address: 1 Churchill Place, London E14 5HP
Apply Now